Adolf von Henselt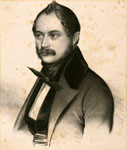 Pianist, composer
Born: Schwabach, Germany - 12 May 1814
Died: Warmbrunn, Germany (now Jelenia Gora, Poland) - 10 October 1889

Considered one of the great piano virtuosos of his age, Adolf von Henselt retired early from the stage and abandoned a promising career as a composer, but became the leading teacher of piano in St. Petersburg in the mid-19 century, with a huge influence on generations of Russian pianists.
Von Henselt began to learn the violin at the age of three, and took up the piano at the age of five. He studied with Johann Hummel in Weimar, financially supported by a stipend from Ludwig I, King of Bavaria, and made his public concert debut in Munich in November 1832. He continued his studies in Vienna with Simon Schechter, and then spent two years in seclusion, improving the reach of his fingers and further developing his richly melodic playing style, noted for his mastery of cantabile and legato.
Von Henselt suffered a nervous breakdown in 1836, possibly as a result of the intense stage-fright he experienced when performing in public. While recuperating in Weimar, he not only met his future wife, but also came to the attention of Grand Princess Maria Pavlovna, sister of Empress Nicholas I, who also studied piano with Johann Hummel. He was invited to perform in Russia and, in 1838, he moved permanently to St. Petersburg, where he was appointed court pianist to Empress Alexandra Fyodorovna.
He remained in the city for the rest of his life, working as an inspector of schools and a teacher to the Imperial family and the nobility, and later at Anton Rubinstein's Conservatory. He was himself ennobled in 1876. Among his pupils were Nikolay Zverev (who would later teach Sergey Rachmaninov and Alexander Scriabin), the composer, conductor and musicologist Nikolay Ber, and the Swedish-German pianist and composer Ingeborg Stark.
Von Henselt retired from the stage at the age of 33. His Piano Concerto in F Minor, his only major orchestral work, was composed in 1846 and was performed regularly in the following decades, but it proved to be one of the last works he produced. It is therefore as a teacher that he is best remembered, considered by many a key figure in the establishment of the Russian school of piano playing.
Connected with: Anton Rubinstein