Adolf Marks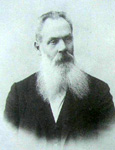 Publisher
Born: Sttetin, Prussian Pomerania (now Szczecin, Poland) -2 February 1838
Died: St. Petersburg - 22 October 1904

The son of a clockmaker in Sttetin, Adolf Marks was the publisher of Niva, the most popular weekly magazine in pre-Revolutionary Russia.
Marks came to St. Petersburg in 1859 and began to work in the book trade, first with F. A. Bietepage and I. K. Kalugin to deal with their German books, and then in the foreign department of Moritz Wolf's bookstore. He then became a tutor of foreign languages, and a chief editor for German and French correspondence for the Great Russian Railway Company.
In 1869 Marks established his own publishing company and published his first books, a volume of national statistics and a treatise on the medicinal properties of the Central Asian drink kumis, made from fermented mare's milk. The following year In 1870 he started publishing Niva, the first illustrated weekly magazine in Russia. Aimed at middle class families, the magazine included articles on popular science and technology, ethnography and geography, history and politics. It also increasingly published short stories, serializations and poetry by Russia's finest contemporary writers. In the course of the magazine's history, these included Leo Tolstoy, Anton Chekhov, Maxim Gorky, Ivan Bunin and Ilya Ehrenburg, as well as a pantheon of poets including Fyodor Tyutchev, Alexander Blok, Anna Akhmatova, and Sergei Yesenin.
The magazine had a print-run of 9000 copies in its first year, and by the end of the century had a circulation of over 200 000, reaching the furthest corners of the Russian provinces. Part of its popularity was due to the special offers for subscribers, which began with color prints of famous artworks, and moved on to collected works of great Russian authors, doing much to disseminate the canon of Russian classics in provincial Russia.
Marks's company also published books on art history and large, illustrated editions of classic prose works. Marks was granted a noble title in 1897, and died in 1904, by which time the circulation of Niva had reached 275 000, second only to the Illustrated London News in Europe, and far ahead of any of the many competitors it had inspired. Although by the early 20th century the magazine had become the subject of derision among the Moscow and St. Petersburg intelligentsia, this phenomenal success continued right up to the October Revolution, and Marks's name was still used as a brand on Soviet publications into the 1920s.
Addresses: 22, Malaya Morskaya Ulitsa (Niva Editorial offices), 29, Izmailovskiy Prospekt (Printing works)