Voskresenskaya Naberezhnaya (Resurrection Embankment)
This promenade is one of the best places for a walk along the banks of the Neva. The Neva here is broad and majestic, and the high granite embankment is 20 m wide, making it more favorable than the narrow strip along the Palace Embankment, for example. Decorative granite piers and monuments complement the picturesque surrounding views.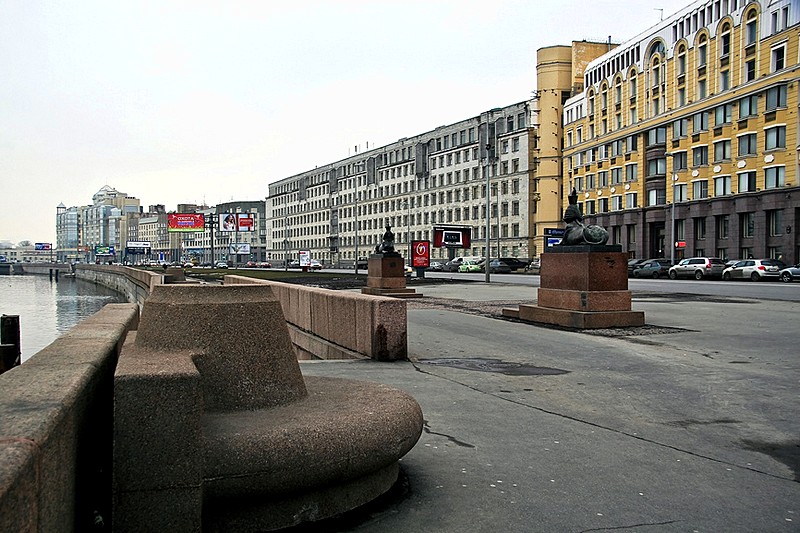 View along Voskresenskaya Naberezhnaya
In the 18th century the waterfront looked nothing like it does today. There was a road running along the Neva River called Voskresensky Proezd after the Voskresensky (Resurrection) Church, which stood on the corner of the Voskresensky Prospekt (now Chernyshevsky Prospekt) and Shpalernaya Ulitsa. Along the road, ships on the Neva unloaded goods and construction materials at numerous wharves. In the second half of the 19th century, several barracks were built for officers serving at the imperial court. In 1916, Resurrection Embankment was renamed Belgiskaya Naberezhnaya (Belgian Embankment) in a show of support for Russia's Belgian allies during the First World War. However, this name existed only on maps. In 1923, the embankment was named after Maximilian Robespierre, the head of the radical revolutionaries of the Jacobin period of the French Revolution.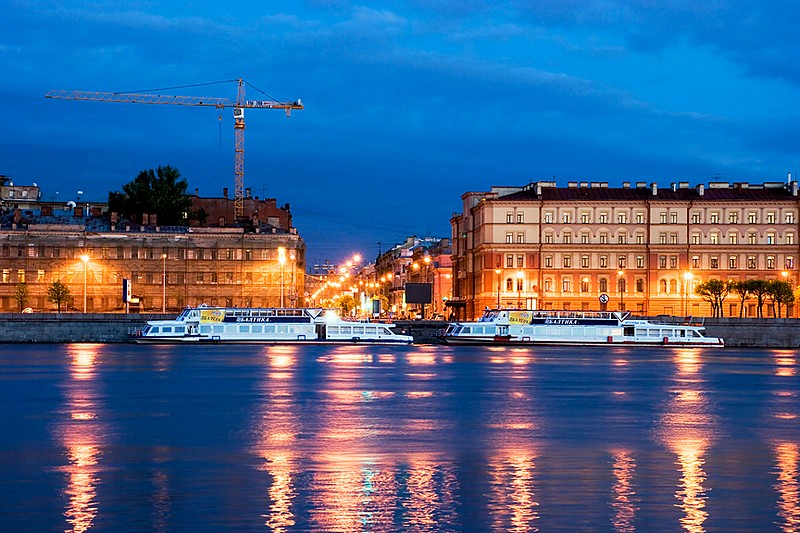 Night view of Voskresenskaya Embankment
In 1925-1926, the embankment was strengthened with massive concrete jetties, and only during the 1960s and 1970s was the granite casement that can still be seen today constructed. After the fall of the communist regime, Robespierre Embankment, located opposite the main holding prison of St. Petersburg - Kresty - became a memorial to all those who were repressed and murdered by the Soviet regime. In 1995, the famous artist Mihail Chemiakin built two ghostly bronze sphinxes on granite pedestals here as a Monument to the Victims of Political Repression, and in 2006, not far away a monument was erected honoring the poet Anna Akhmatova, who spent many hours in line in front of Kresty where her husband and son were at different times imprisoned.
The embankment as seen today is an eclectic collection. Renaissance Revival buildings from the second half of the 19th century, Stalinist neoclassical buildings from the pre-War, and elite modern apartment blocks all adorn the area. A small brick structure houses the St. Petersburg Museum of Coffee, where you can learn all about this drink and taste rare varieties from all over the world. A walk along the Voskresenskaya Embankment combined with a visit to the nearby Tavrichesky Garden and the cathedral, administrative buildings and garden at Smolny is highly recommended.
| | |
| --- | --- |
| Metro stations: | Chernyshevskaya |
| Directions: | Exit Chernishevskaya metro station and turn right on Prospekt Chernishevskogo, then walk straight to the rive. |
| Best walking route: | All along the embankment (1 hour) |
| What's here? | Monument to Victims of Political Repression, Monument to Anna Akhmatova, Museum of Coffee |
| What's nearby? | Kutuzov Embankment, Shpalernaya Ulitsa, Liteyny Bridge, Liteyny Prospekt, Tavrichesky Garden |