Naberezhnaya Kutuzova (Kutuzov Embankment)
There are only a few houses on this historic Neva waterfront, but each of them has its own history and is associated with some of the most prominent figures of St. Petersburg's history. At various times, the author Count Alexey Tolstoy, the great poet Alexander Pushkin, Field Marshal Mikhail Kutuzov, the poet Anna Akhmatova, and the physiologist Ivan Pavlov all lived here. Today, wonderful views of the broad expanse of the Neva, the panorama of the Petrograd Side, the Cruiser Aurora and Sampsonievsky Bridge await those who take a walk here.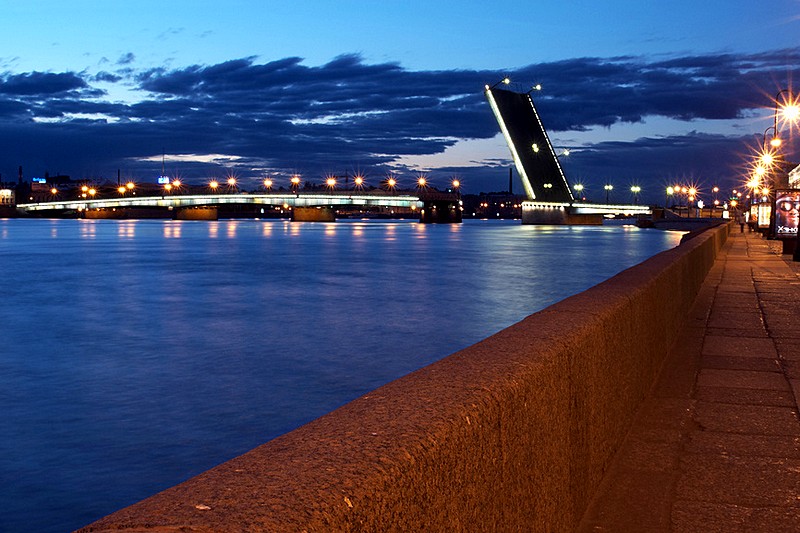 View from Kutuzov Embankment onto a raised Liteyny Bridge
In the 18th century, this waterfront was part of the Palace Embankment. However palaces were not built here and construction was limited to houses built en masse to architectural templates. A striking example of these structures from the 1780s can be seen at house number 36 - the Bauer House, built for the General of Engineers Friedrich Bauer. On the outside the building is has a simple facade lacking any decoration. However, visiting the building's courtyard is highly recommended. Here all the surfaces are decorated with colorful mosaics created by students from the Small (Malaya) Academy of Arts, housed in the building.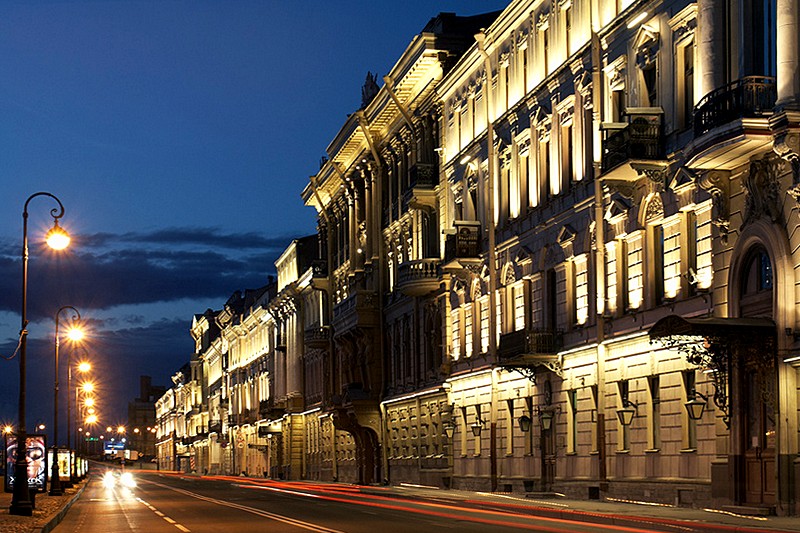 Night view of Kutuzov Embankment
The embankment was reinforced with granite in the 1760s. To do this, it had to be extended by a few dozen meters. In 1768, at No. 30, one of the first houses on the waterfront was constructed, and Field Marshal Prince Mikhail Kutuzov lived here with his family from 1798-1812. It was also from here, surrounded by large crowds, that he set off for his successful campaign against Napoleon. The embankment is named in honor of Kutuzov, one of Russia's greatest military commanders.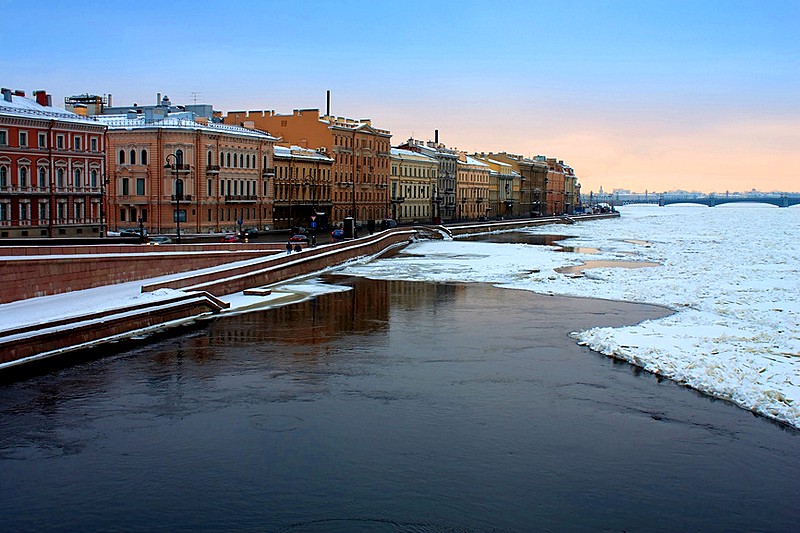 Winter view of Kutuzov Embankment
However, in 1860 it was renamed the Gagarninskaya Embankment after the Gagarin Marina situated on the opposite side of the Neva. Today, Gagarinskaya is still the name of a street running off the embankment between houses 22 and 24. One of these houses is the mansion of Count Kushelev-Bezborodko (No. 24), ewhich once housed the rich Kushelevskaya art gallery, the collections of which were later transferred to the Hermitage and other museums. Another aristocratic house on the waterfront is the mansion of Count Sheremetev (No. 4), which in Soviet times was the home to the House of Writers, and today houses the Sheremetev Palace Hotel.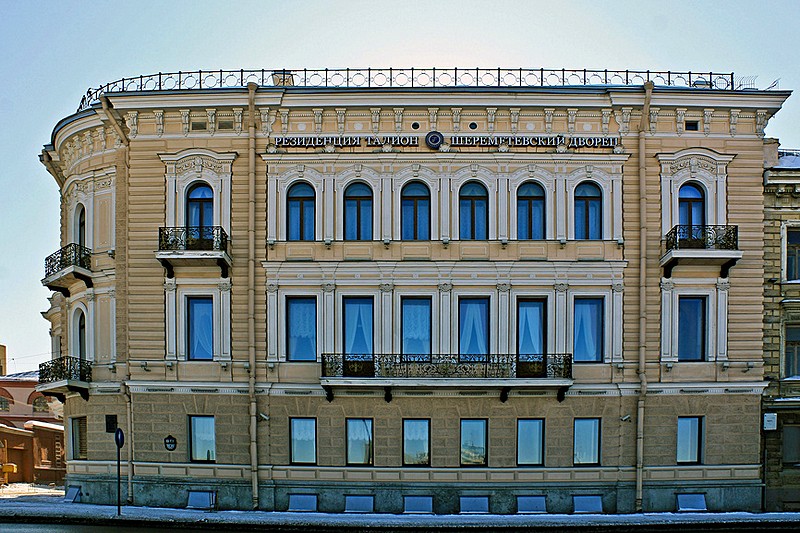 Talion Sheremetev Palace Hotel on Naberezhnaya Kutuzova
In 1902, the French Embassy was moved to the Pashkov Mansion (No. 10) and the name of the embankment was changed again, this time to the French Embankment. After the October Revolution, the embassy was moved elsewhere, and the embankment was renamed for Jean Jaures, a prominent French socialist and pacifist. In 1945 its original name was restored. Today the Kutuzov Embankment comprises 720 meters of landmark buildings and Russian history.
| | |
| --- | --- |
| Metro stations: | Chernyshevskaya |
| Directions: | Exit Chernyshevskaya Metro Station and turn right on Prospekt Chernyshevskogo. Walk to the Neva River and turn left. |
| Best walking route: | All the embankment (20 min) |
| What's here? | Kushelev-Bezborodko Mansion, Bauer House |
| What's nearby? | Palace Embankment, Summer Garden (Letny Sad), Fontanka River, Neva River, Liteyny Prospekt, Voskresenskaya Embankment |