Kronverkskaya Naberezhnaya (Kronverk Embankment)
Kronverkskaya Embankment is a mix of both old and very new buildings. In the beginning of the 18th century, the first structures appeared here during the founding years of the city, but the embankment itself - and a route for transport along it - did not appear until the 1970s. A curious fact - not one house is listed as being located on the waterfront, and yet there are a few first-class sights here.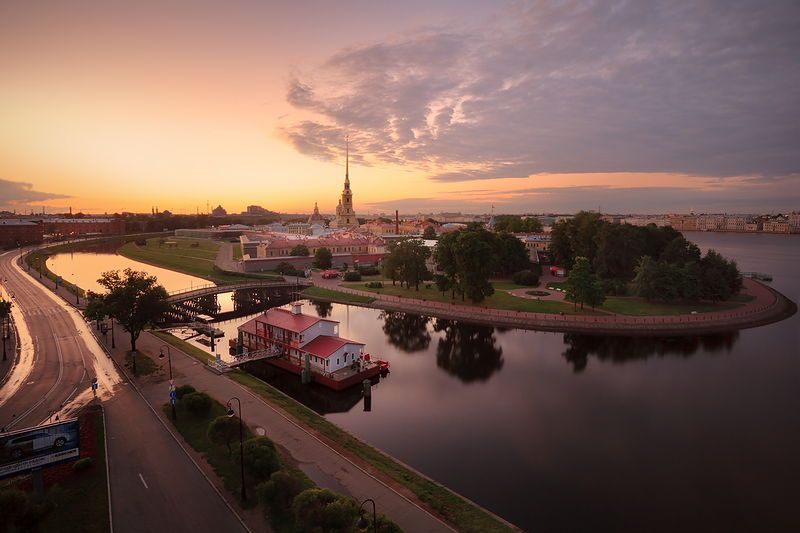 Kronverkskaya Embankment during the White Nights
The Kronverksky Strait passes between Petrograd and Zayachy (Hare) Islands, a one-kilometer armlet of the Neva River. Tsar Peter the Great chose Zayachy Island as the location for the fortress to protect the future capital from invading Swedish armies. So, in 1703 on opposite sides of the strait, the Peter and Paul Fortress and the Peter and Paul Kronverk ("crownwork" in English) were built almost simultaneously. The Kronverk was surrounded by an artificial moat which took its water from Kronverksky Strait. The Ioannovskiy (St. John) Bridge linking Zayachy and Petrograd Islands and the Western and Eastern Artillery Bridges over the Kronverk Canal were built here as well.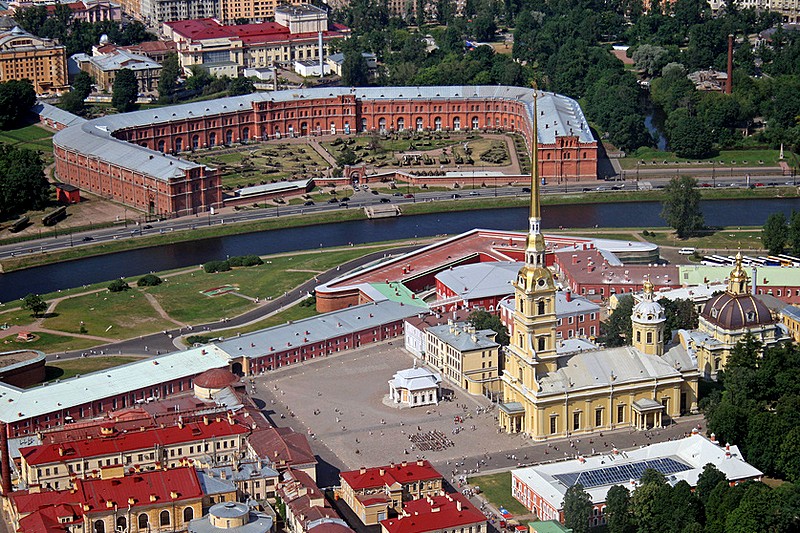 Kronverkskaya Embankment between the Kronverk and the Peter and Paul Fortress
At first the Kronverk was wooden, but was eventually rebuilt with stone. In the 19th century, the Kronverk lost its military significance, and the red-brick building of the Arsenal was built in the center. It was designed to store guns and cannons, flags and medals, trophies, and other military paraphernalia. The rest of the area was laid out as the Alexandrovsky Park, where St. Petersburg's Zoological Garden was opened in 1865. In 1872, the Arsenal was converted into the Artillery Museum. Today, it is the Military-Historical Museum of Artillery, Engineers, and Signal Corps - one of the largest military museums in Russia.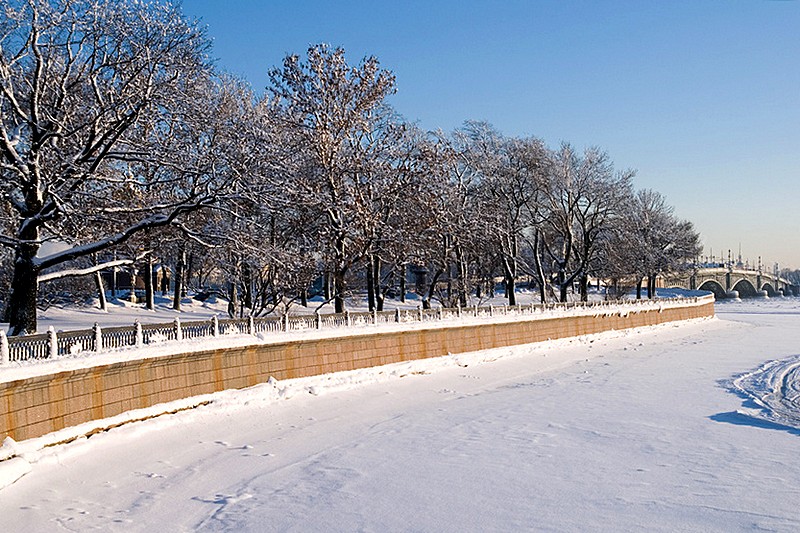 Kronverkskaya Embankment in winter
The large-scale reconstruction of the Kronverk Embankment took place in the 1970s, stretching from Ploshchad Academika Likhacheva to Troitskaya Ploshchad (Trinity Square). The Kronverk granite pier, built in the 1850s and used to unload artillery shells, was restored. In the eastern section, the Kronverk Obelisk was erected as a memorial at the supposed location of the execution of five participants in the Decembrist Uprising of 1825.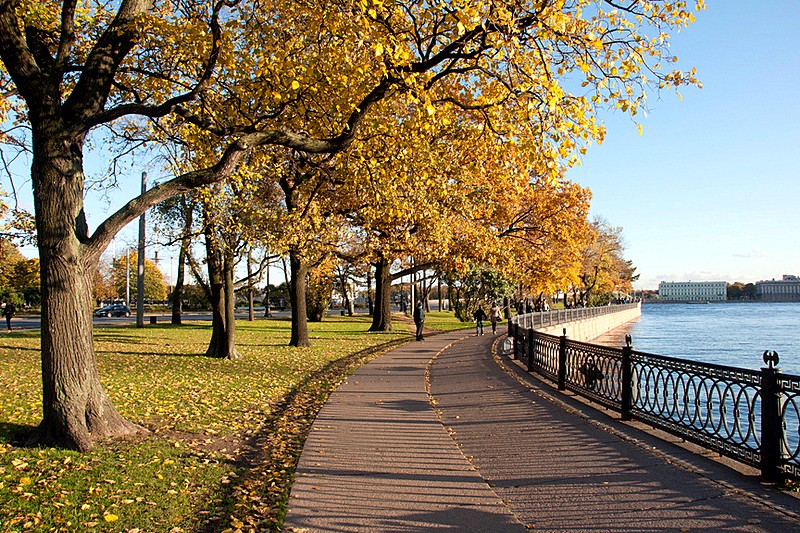 Kronverkskaya Embankment with autumn foliage
Today Kronverkskaya embankment is a place for leisurely walks and to enjoy views of the fortress and the mighty walls of the Arsenal. From here you can cross to Zayachy Island, head into Alexandrovsky Park, or if you wish to continue your exploration of the historic embankments of the Petrograd Side by proceeding to the Petrovskaya Embankment.
| | |
| --- | --- |
| Metro stations: | Gorkovskaya |
| Directions: | Exit Gorkovskaya metro station and walk through Alexandrovsky Park to Kronverksk Embankment. |
| Best walking route: | All along the embankment (30 min) |
| What's here? | Kronverk / Arsenal / Military-Historical Museum of Artillery, Engineer and Signal Corps |
| What's nearby? | Peter and Paul Fortress, Zayachy Island, Ioannovskiy (St. John) Bridge, Alexandrovsky Park, Zoo, Petrovskaya Embankment, Troitskaya Ploshchad (Trinity Square), Birzhevoy (Exchange) Bridge, Trinity Bridge |