Cossack Church of the Exaltation of the Cross
Towards the southern end of Ligovsky Prospekt, at the point where it crosses the Obvodny Canal, the Cossack Church of the Exaltation of the Cross is in fact a complex of churches and chapels dominated by a spectacular belltower and entrance gate with beautiful curving colonnades stretching on either side.
The Church of the Exaltation of the Cross stands on the site of one of St. Petersburg's oldest cemeteries and churches. Originally the parish church for the Coachmen's Settlement, the first wooden church, named after the Birth of John the Baptist, was erected here in 1719. In 1764, a second wooden church, with heating for winter services, was consecrated in the name of the Tikhvin Icon of the Mother of God.
The first stone church was built on the orders of the Holy Synod in 1794, by which time the area was predominantly populated by Cossacks serving in Imperial regiments. Thus the church got its current name, and it remains a centre of the Cossack community in St. Petersburg to this day. The superb early neoclassical belltower and its two side chapels were built 1810-12, and in 1844, the Tikhvin Church was replaced with a new stone building, a simple white one-storey structure with a single pale blue dome, currently the only fully functioning church in the complex.
In 1848-51, the old Church of the Exaltation of the Cross was replaced by the modern cathedral. Designed by Egor Dimmert, the Cathedral took its cue from the belltower, and is a similarly elegant and symmetrical neoclassical structure. The final church in the complex, the Church of Ss. Kirill and Mefodiy, was built by church elder and merchant Ivan Shigalev in 1872 in memory of his wife.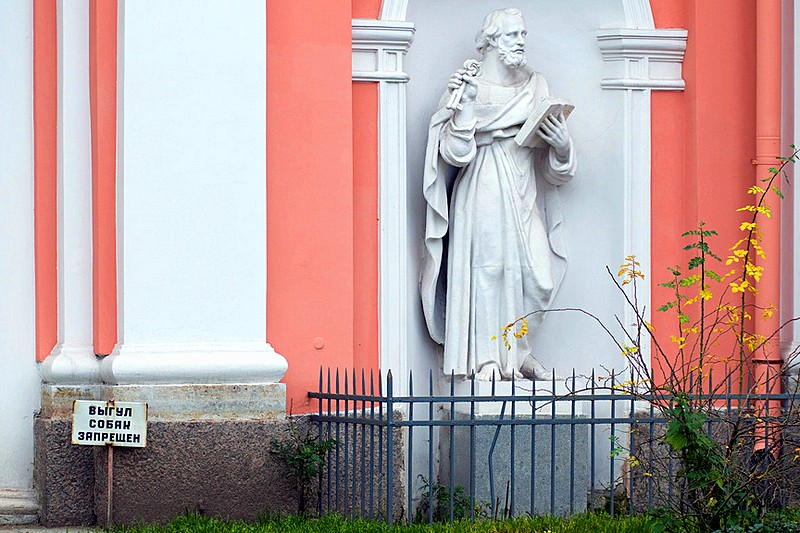 Sculpture of St Peter at the Cossack Church of the Exaltation of the Cross
In the 1930s all of the churches in the complex were closed, and their rich decorations plundered. The cathedral was completely reconstructed inside and, ironically, turned into workshops for restoration. The complex was restored to the Orthodox Church and the Cossack community in 1991, and restoration work is still ongoing.
Address: 128, Ligovsky Prospekt
Metro station: Ligovsky Prospekt
From the metro: On exiting the station, turn left down Ligovsky Prospekt. The cathedral is on your left just over 200m away, before the Obvodny Canal. (5 minutes)
Opening hours: Daily from 9am to 8pm
This much neglected complex of churches is rarely included on tourist itineraries and, despite ongoing restoration work, is still in a very dilapidated state. The only real reason for visitors to be in this area of town is the Central Coach Station, nearby on the Obvodny Canal Embankment. If you are walking there from the metro, spare a few minutes at least to take a look at the splendid belltower and ornately decorated colonnades. Services are held in the Tikhvin Church daily, and in the Church of Ss. Kirill and Mefodiy on Sunday mornings.
Dining near the Cossack Church of the Exaltation of the Cross
RESTAURANTS:
Editors' picks