Church of Ss. Simeon and Anna
On one of St. Petersburg's most picturesque corners, where Ulitsa Belinskogo crosses the Fontanka River, the Church of Ss. Simeon and Anna is one of St. Petersburg's oldest churches, and one of the finest examples of early baroque architecture in the city.
The first wooden church was built on this site on the orders of Peter the Great in 1714, to celebrate the birth of his daughter Anna. Empress Anna Ionnovna, who came to the throne in 1730, also considered St. Anna to be her patron, and instructed architect Mikhail Zemtsov to design a stone replacement for the wooden church. Zemtsov, a pupil of Domenico Trezinni, is considered to be Russia's first home-bred architect, and the result of his work was this beautifully simple church, with soaring spire and polygonal cupola, painted in softly contrasting shades of yellow and white.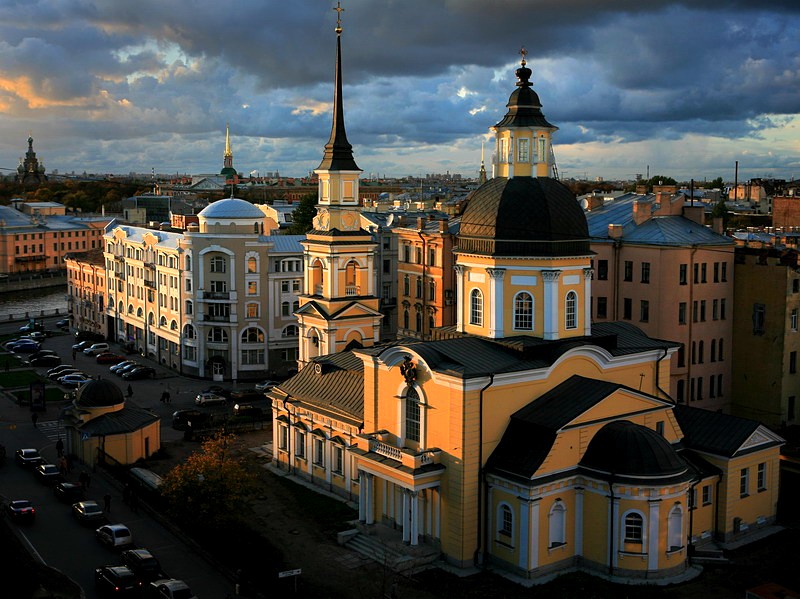 Church of Ss. Simeon and Anna
The church was originally reserved for members of the court, but later became a popular public church for the aristocratic residents of this area of St. Petersburg. Closed by the Bolsheviks in the 1930s, the church was initially turned into a warehouse, and then handed over to the Meteorological Museum. Returned to the Orthodox Church in the 1990s, the church has still not recovered its main relics, including the Icon of the Three-Handed Mother of God, which is still housed in the St. Nicholas Maritime Cathedral. The interior has been restored in a plain, attractive style, and is now a fully functioning church.
Address: 48, Mokhovaya Ulitsa
Metro station: Gostiny Dvor
From the metro: Turn right from the metro down Nevsky Prospekt to the Fontanka River. Cross the river and walk left up the embankment to the next bridge. The church is across the road. (15 minutes)
Opening hours: Daily from 10am to 6pm.
Visitors to St. Petersburg are bound to walk past this beautiful little church at some point during their explorations of the historic center - or just as likely ride past it as part of a river cruise. Located a short distance upstream from the Summer Gardens and the Engineers' Castle, the church is one of the architectural highlights of this extremely picturesque area. However, there is little reason for any but the devout to venture inside, as the church has been restored more for the use of worshippers than to impress visitors.
Accommodation near the Church of Ss. Simeon and Anna
Dining near the Church of Ss. Simeon and Anna
RESTAURANTS:
Editors' picks