Church of Ss. Isidor and Nicholas
Just a few hundred meters from the St. Nicholas Naval Cathedral, on the embankment of the Griboedov Canal, this charming neo-Byzantine church was one of the last churches to be built in St. Petersburg before the Revolution.
Built for the Brotherhood of St. Isidor, a group of Orthodox professionals and tradesman from Estonia, the church was designed by Alexander Poleshchuk, a member of the Brotherhood, and built on land presented to them personally by Emperor Nicholas II. Building of the two-storey church, in traditional five-dome form, began in 1903 and took four years to complete. The main hall of the church, on the second floor, was consecrated in 1907 in honour of St. Isidor. Services there were conducted in Estonian. The smaller first-floor hall, where services were conducted in Russian, was consecrated a year later in honour of St. Nicholas.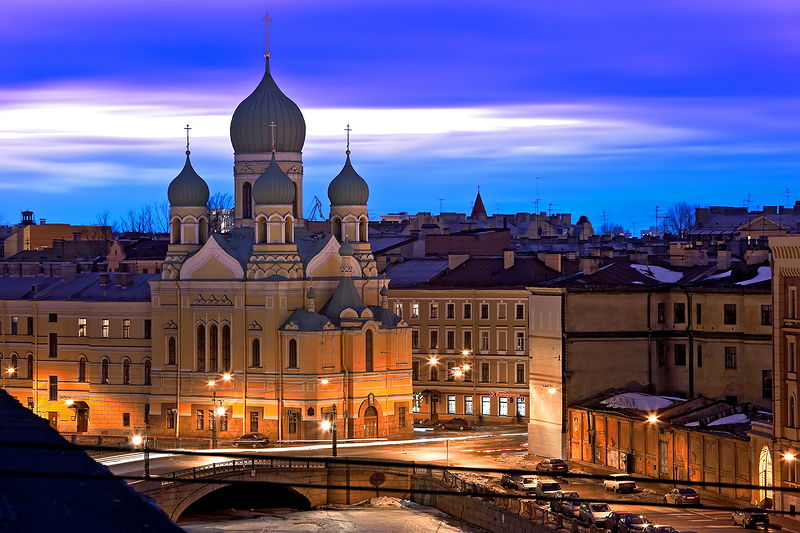 Church of Ss. Isidor and Nicholas on the Griboedov Canal
The church, which became the center of Estonian Orthodox life in the city, was closed in 1935, and many of its valuable decorations were passed to the St. Nicholas Cathedral nearby. The building itself came to be used as an Art Factory, the production site for vast banners and posters depicting the Soviet Union's leaders, for use at demonstrations and holidays.
Returned to the Orthodox Church in the mid-1990s, the church is still undergoing restoration. The smaller first-floor has already been reopened, and regular services are held there while the upper floor is completed.
Address: 24, Ulitsa Rimskogo-Korsakova
Metro station: Sadovaya
From the metro: On exiting the metro, turn right down Sadovaya Ulitsa, and keep walking until you come to the confluence of the Kryukov and Griboedov Canals. Cross the first, and walk down the Griboedov Canal Embankment another 100m to the next bridge. The church is next to the bridge on the other side. (15minutes)
Opening hours: Daily from 9am to 6.30pm.
For now, there is little reason to go inside the Church of St. Isidor, which is mostly closed for restoration. However, it is one of the most picturesque areas of historic St. Petersburg, and visitors are likely to pass it at some point on boat trips or while exploring the Kolomna District.
Accommodation near the Church of Ss. Isidor and Nicholas
Dining near the Church of Ss. Isidor and Nicholas
RESTAURANTS:
Editors' picks