Church of St. Catherine the Martyr
The most famous feature of this impressive neoclassical church, the silver angel that crowns it large central dome, is currently missing while the church undergoes much-needed restoration.
The first wooden church was built on this site in the 1740s, when the surrounding area was home to the Kabardin Regiment of cavalrymen from the North Caucasus. Later, it became a "pox church", reserved for sufferers from smallpox and served by priests who were permanently quarantined. The church burned to the ground in 1809, and was replaced in 1823 by the current stone church, designed by architect Andrei Mikhailov the Second (his elder brother was also a prominent architect).
The new church took the form of a Greek cross, with a prominent central dome surrounded by columns and crowned with a lead-covered wooden angel holding a gilded sword. Inside, the church was spacious and airy, with a pale-blue coffered dome ornamented with elegant classical rosettes. The centre of worship was an icon of Catherine the Martyr, whose popularity in St. Petersburg was assured after two Empresses bore her name.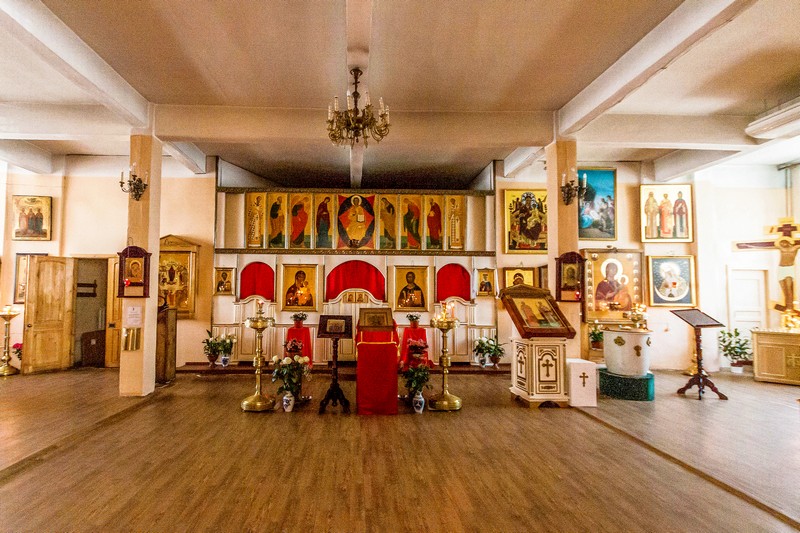 Interior of the Church of St. Catherine the Martyr
The church survived until the 1930s, when it was handed over to the Hydrological and then the Petroleum Research Institutes. Still under restoration, the church is beginning to hold services again, and a copy of the original angel stands near the entrance, waiting to be restored to its rightful place atop the church's majestic dome.
Address: 27a, Kadetskaya Liniya
Metro station: Vasileostrovskaya
From the metro: Turn right from the metro down Sredny Prospekt to the third cross street. Turn left, and the church is immediately on your right. (10 minutes)
Opening hours: Daily from 9am to 7pm.
Still undergoing restoration work, this fine but long-neglected church will be more of a draw for visitors in a year or two. For now, it is worth a brief detour if you happen to be wandering along the embankments of Vasilevsky Island.
Accommodation near the Church of St. Catherine the Martyr
Dining near the Church of St. Catherine the Martyr
RESTAURANTS:
Editors' picks