Church of St. Panteleimon the Healer
This charming red-and-white Church of St. Panteleimon is one of the oldest in St. Petersburg, and stands at the opposite end of Ulitsa Pestelya from the even more impressive Cathedral of the Transfiguration. This fascinating contrast between baroque and neoclassicism makes this one of the most picturesque spots in central St. Petersburg.
The first wooden church was built here during the reign of Peter the Great, to celebrate two major naval victories over the Swedes, the first at Hanko in 1714 and the second at Granhamm in 1721. Both fell on the feast-day of St. Panteleimon, and they confirmed the success of Peter's lifelong ambition to transform Russia into a great maritime nation.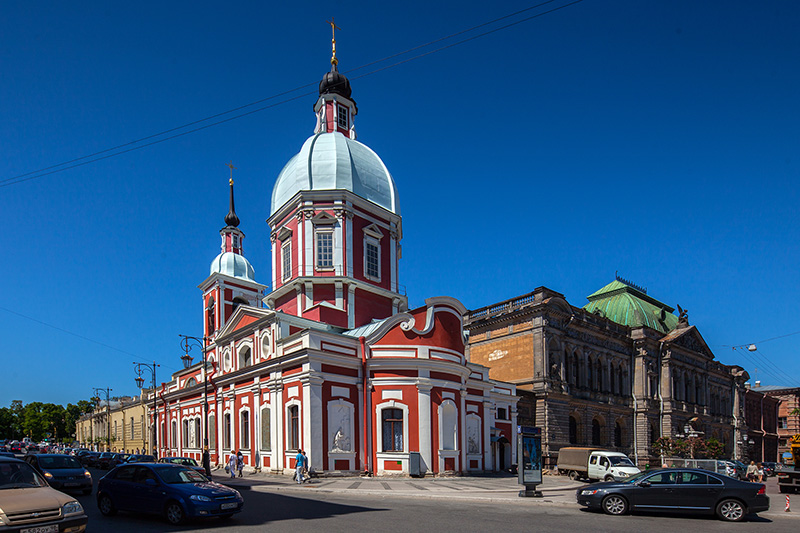 Church of St. Panteleimon the Healer
The wooden church was replaced in 1735-39 by the modern stone church, probably designed by Ivan Korobov, although there are no definitive records. Comprising a single octagonal cupola, crowned by a tiny onion dome, and a low belltower with slender spire, the church is one of the finest baroque buildings in St. Petersburg, and has survived almost unaltered to this day.
Although plans were announced to demolish the church in the 1930s, they were thankfully never fulfilled, and the building was eventually handed over to an electrical factory. Later, it was restored as a Museum of the Battle of Hanko, and was eventually returned to the Orthodox Church in the 1990s. Although the original interiors had been completely destroyed, the original mosaic Icon of St. Panteleimon had somehow survived, and is once again the centre of worship in the fully restored church.
Address: 2a, Ulitsa Pestelya.
Metro station: Chernyshevskaya.
From the metro: On exiting the station, turn left on Prospekt Chernishevskogo, then immediately right down Kirochnaya Ulitsa. At the end of the street, turn left down Liteiniy Prospekt and then right onto Ulitsa Pestelya. The church is clearly visible at the end of the street. (12 minutes)
Opening hours: Daily from 9am to 7pm.
The Church of St. Panteleimon is in the heart of historic St. Petersburg, close to the Summer Gardens and the Mikhailovsky Castle. Visitors are bound to pass the church during their exploration of the city, and it is worth popping inside for a few minutes to take a look at the restored interiors.
Accommodation near the Church of St. Panteleimon the Healer
Dining near the Church of St. Panteleimon the Healer
RESTAURANTS:
Editors' picks