Church of the Intercession of the Holy Virgin at the Polytechnic Institute
Located in the north of St. Petersburg, in the picturesque grounds of the city's prestigious Polytechnic Institute, which is itself a masterpiece of Russian Neoclassicism, this charming and unusual little church was opened in 1913, only five years before the October Revolution.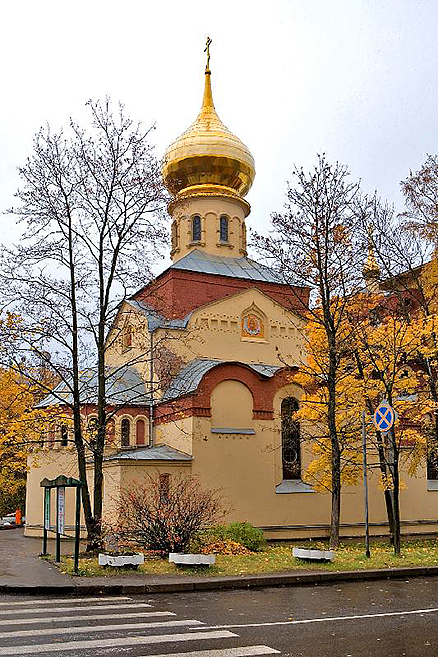 Church of the Intercession of the Holy Virgin at the Polytechnical Institure
Plans for a church on the campus had been mooted since the Polytechnic's founding in 1899, but it was not until a decade later that a suitable design was approved. The architect, Iosif Padlevsky, taught technical drawing at the Polytechnic, and produced a truly original design that combined traditional Russian village church architecture with elements of Style Moderne. The building is dominated by its single, large gold dome, and is noteworthy for the attractive combination of yellow plastering and bare brickwork that is used to decorate the exterior. The church was richly decorated inside, with frescoes covering every inch of the walls on both levels.
The Church of the Intercession was closed in the 1930s, and became the offices of the Polytechnic's Military Department. It was returned to the Orthodox Church in 1993. The church is still undergoing restoration, helped by volunteers from the staff and student bodies of the Polytechnic.
Address: 29, Politekhnicheskaya Ulitsa
Metro station: Politekhnicheskaya
From the metro: The main entrance to the Polytechnic Institute and its grounds is directly opposite the exit from the metro station. The Church of the Intercession is to the rear of the main building, facing Politekhnichesky Park. (2 minutes)
Opening hours: Daily from 9am to 6pm.
While the long trip north the Polytechnic Institute (now officially known as St. Petersburg Technical University) is unlikely to be made by anyone staying less than several months in the city, there is plenty of interest to see there, including the fine architecture of the campus, the attractively landscaped Polytekhnichesky Park, the Historical Museum of Technology, and this pretty little church.
The Church of the Intercession has daily services, and is open to the public, although the majority of the congregation is made up of the University's teachers and students. The church's impressive frescoes are slowly being restored. Particular importance is attached to the feast day of the Intercession of the Holy Virgin (14 October), a holiday that is marked only by the Russian Orthodox Church, and has its origins in medieval Russian history and the battles against the Mongol Hordes.