Church of the Epiphany of Our Lord
Standing at the edge of Gutuevsky Island, near Ekateringof Park, this small, late 19th century church is still undergoing large-scale restoration after the ravages it suffered in the Soviet period. The parish church for St. Petersburg's main sea port, which was moved from Kronshtadt to Gutuevsky Island in the mid 19th century, the Church of the Epiphany of Our Lord was designed by Vasiliy Kosyakov, Director of the Petersburg Institute of Engineering and Construction, and funded mostly by Ivan Boronin, a wealthy textiles manufacturer who wished to establish a family mausoleum at the church.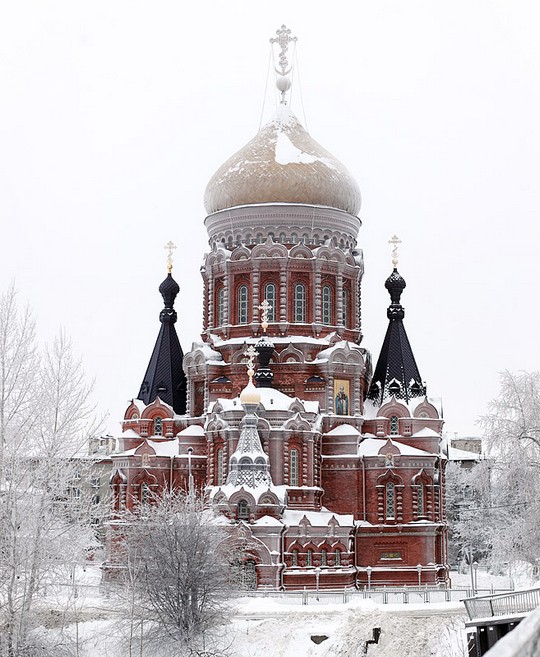 Church of the Epiphany on Gutuevskiy Island
Completed in 1888, the red-brick church had an intricately decorated facade, featuring tiled mosaics, gilded reliefs, and "kokoshniki" - medieval Russian decorations in the shape of a traditional headdress like a tiara. With its large arched windows, single gold dome and slender belltower, the church, standing right on the banks of the Ekateringofka River, recalls a ship in full sail.
The church's interior was also richly decorated, with a marble alter and ivory iconostasis, as well as bright frescoes covering all the walls. Sadly, all theses precious decorations were plundered or destroyed after the Revolution, when the church was used variously as a warehouse, a soap factory and a garage. Shelled along with nearby port buildings during the Second World War, the ruined building was returned to the Orthodox Church in the early 1990s, and the massive restoration program is finally nearing completion.
Address: 2, Dvinskaya Ulitsa
Metro station: Narvskaya
From the metro: On exiting the station, cross Ploshchad Stachek and head along Perekopskaya Ulitsa to the Bumazhny Canal. Follow the canal to the right around Ekateringof Park, and take the second right down Liflyandskaya Ulitsa. Walk up to the Obvodny Canal, turn left and cross Gutuevsky Bridge. The church is on your left next to the bridge. (15 minutes)
Opening hours: Daily from 9am to 6pm (from 8am to 8pm on Sundays).
Far from any tourist route, the Church of the Epiphany of Our Lord is only worth seeking out for those who have time to explore the varied industrial architecture of the Obvodny Canal and thee neglected Kirovskiy District. Although its exterior is still under scaffolding, the Church of the Epiphany of Our Lord is fully functioning, with daily services and an Icon of the Birth of Christ which miraculously restored itself in March 1998, and has become a popular shrine for the very faithful, particularly at Christmas. On 19 January, the Baptism of Christ, many come to the church to collect freshly blessed holy water.
Accommodation near the Church of the Epiphany of Our Lord