Church of the Annunciation on Vasilevsky
There were once ten churches in St. Petersburg named after the Annunciation of the Mother of God, one of the most important holidays in the Eastern Orthodox calendar. This charming and unusual church on Vasilevskiy Island is one of only two surviving. The first wooden church was built here in the earliest years of St. Petersburg, when Vasilevskiy was planned as the center of the city, and rows of canals were built along what are now the Lines. In 1750, by which time Vasilevsky was predominantly a merchant quarter, construction began on a stone church, funded by wealthy members of the congregation, and principally the Chirkiniy family of brewers.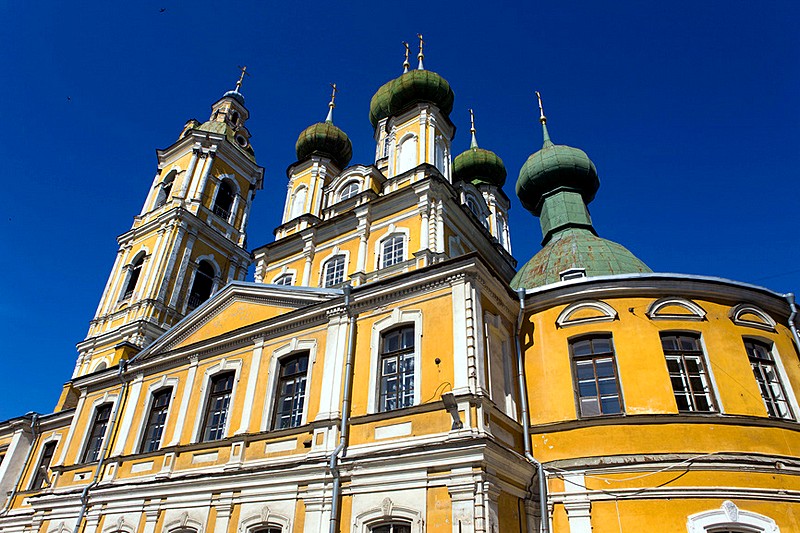 Church of the Annunciation on Vasilevskiy Island
Although the building's architect is unknown, the Church of the Annunciation is a surprisingly original creation, successfully blending elements St. Petersburg Baroque and medieval Muscovite styles. Its layered bell-tower was for many years the tallest building on Vasilevsky Island. The round church comprised seven side-chapels, each containing a holy relic or copy of a famous icon. The Church of the Annunciation was once the parish church for the nearby Academy of Sciences, and many famous scholars were members of its congregation, including the great Russian polymath Mikhail Lomonosov.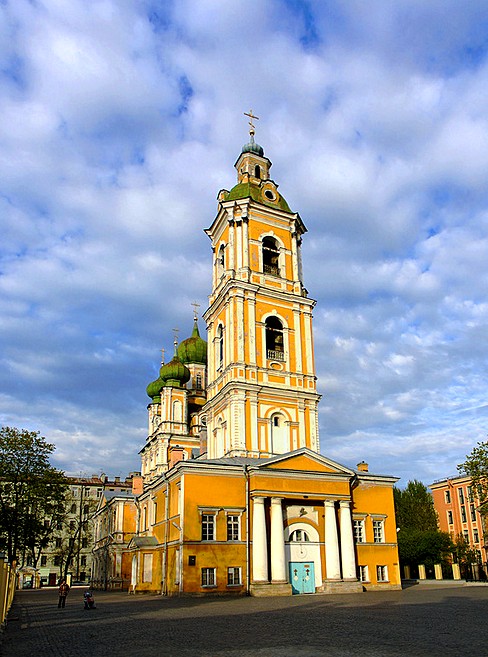 Church of the Annunciation of the Blessed Virgin
In the mid 19th century, the church became part of a convent, the auxiliary buildings of which can still be seen surrounding the church. However, on the orders of Nicholas I, the Church of the Annunciation was returned to its congregation, while the nuns were moved to the Voskresensky Novodevichy Convent in the south of the city. After the Revolution, the church was closed, its treasures ransacked, and the building used as a warehouse and workshops. During the Siege of Leningrad, the building was repeatedly bombed and remained in ruins till the early 1990s. The church's exterior has since been restored, and work continues on the interior, with the second floor already completed, including the restoration of original frescoes depicting Mount Ararat and God's covenant with Noah.
Address: 67, 8-ya Liniya, V.O.
Metro station: Vasileostrovskaya
From the metro: On exiting the station, cross Sredny Prospekt and walk up 7-ya Liniya. The church is only just over 100m away, set back from the street to your left. (5 minutes)
Opening hours: Daily from 9am to 6pm.
Although the Church of the Annunciation is still undergoing much needed restoration, and only the second floor is currently open, the church is so close to Vasileostrovskaya Metro Station that it can easily be visited while exploring the island. Although regular services are not currently held in the church, it is used often for weddings, christenings and funeral services.
Accommodation near the Church of the Annunciation on Vasilevsky
Dining near the Church of the Annunciation on Vasilevsky
RESTAURANTS:
Editors' picks