Church of the Annunciation of the Blessed Virgin
Standing in one of the most picturesque on the banks of the Bolshaya Nevka River, opposite Elagin Island, this charming church is a typical example of late Russian Baroque, and was reconstructed from almost total ruins in time for St. Petersburg's 300th Anniversary in 2003.
The church dates back to 1764-65, and was built by an unknown architect for Empress Elizabeth's chancellor, Count Alexei Bestuzhev-Ryumin, as a parish church for the village of serfs he had brought to St. Petersburg from his Ukrainian estates.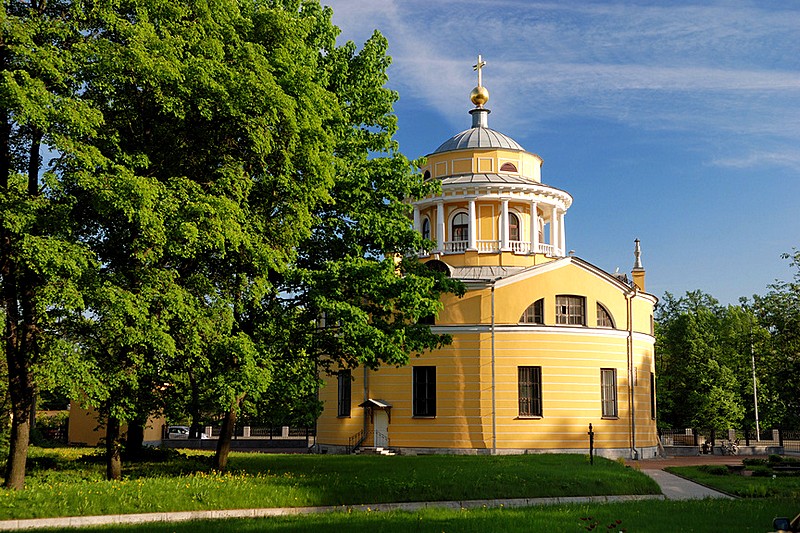 Church of the Annunciation of the Blessed Virgin on Primorskiy Prospekt
In 1803, the Church of the Annunciation was struck by lightening and burnt almost to the ground, although the valuable iconostasis, brought from the original St. Isaac's Church, was saved. The church's then owner, the extremely wealthy State Councilor Sergei Yakovlev, commissioned architect Vasiliy Mochulsky to rebuild the church. To the original church's Alexander Nevsky Chapel, a second chapel was added in honour of Ss. Timothy and Mavra, a newlywed couple martyred for their beliefs during the reign of Diocletian. In the mid 19th century, as the district around the church filled up with the dachas of St. Petersburg's beau monde, the church became increasingly popular, and was frequented by many of the greatest names in Russian literature, including Ivan Turgenev, Alexander Griboedov, and even Alexander Pushkin. The church's graveyard, demolished in 1930, was the final resting place for many prominent people, including several heroes of the Napoleonic Wars.
The church was closed in 1937, and the building was used as a workshop for a factory producing rubber toys. The area around the church became increasingly industrialized, and the building itself was on the point of collapse when restoration began in 1999. After four years, the Church of the Annunciation was restored to its former glory, and was even possible to save many of the church's original frescoes.
Address: 79, Primorskiy Prospekt
Metro station: Staraya Derevnya
From the metro: Turn right out of the station down Lipovaya Alleya, across the railway tracks and on to busy Primorskiy Prospekt. The church is about 70m to your left. (10 minutes)
Opening hours: Daily from 9am to 7pm.
This charming, fully restored church is an essential stop for those with the time to explore the area around the Kirov Islands, and can easily be combined with a visit to the nearby Buddhist Temple or a picnic on Elagin Island. The church is fully functioning, and has daily services starting at 10am. Particular attention is paid to the holidays in honour of Alexander Nevsky (30 August), Ss. Timothy and Mavra (3 May), and to the Annunciation of the Blessed Virgin (25 March).
Accommodation near the Church of the Annunciation of the Blessed Virgin
Dining near the Church of the Annunciation of the Blessed Virgin
RESTAURANTS:
Editors' picks