Prince Vladimir Cathedral
Standing at the Eastern edge of the Petrograd Side, in an area that saw some of the earliest settlement in St. Petersburg, the Prince Vladimir Cathedral is one of the city's oldest churches, and also, thanks to the fact that it was closed for only one year in the Soviet period, one of its best preserved. An attractive, gleaming white, five-domed church, the design of which bridges the gap between late baroque and neoclassicism, the Prince Vladimir Cathedral took over forty years to build, and was eventually consecrated in 1789.
The first wooden church, to St. Nicholas, was built on this site as early as 1708, and plans to build a stone cathedral were prepared on the orders of Empress Anna Ioannovna. However, it was not until 1766, in the reign of Catherine the Great, that work began on the cathedral to designs by Antonio Rinaldi, architect of the Marble Palace and the Gatchina Palace. He was instructed to follow the design of the Assumption Cathedral in the Kremlin, and the original plan was to name the new Cathedral after the Assumption of the Mother of God, too. However, a major fire in 1772 severely damaged the half-finished building, and it was not until 11 years later that work resumed on the project. The cathedral's completion coincided with the unification of Russia and the Crimean Khanate, an event which probably dictated the dedication of the Cathedral to St. Vladimir Equal-to-the-Apostles, the Kievan Prince who brought Christianity to Russia in 988 AD.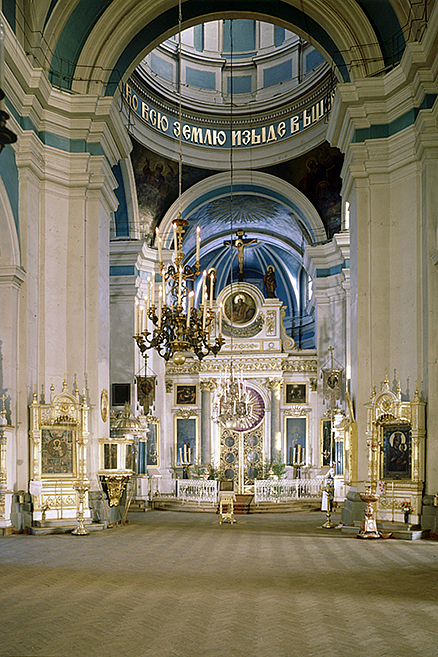 Interior of Prince Vladimir Cathedral
The Prince Vladimir Cathedral has survived almost unaltered since then and, although much of the interior decoration was removed after the Revolution, the cathedral was officially closed only from 1926 to 1927. After that, the Cathedral continued to function, even through the blackest years of the Siege of Leningrad, and became a sanctuary for some of St. Petersburg's greatest religious treasures, including the Kazan Icon of the Mother of God, returned to the Kazan Cathedral in 2001. Many others are still on display in the Cathedral.
Address: 26, Ulitsa Blokhina
Metro station: Sportivnaya
From the metro: On exiting the station, walk to the far end of the underpass and turn right up the stairs. The Cathedral is clearly visible about 50m to your right (3 minutes)
Opening hours: Daily from 8am to the end of services.
Although the western end of the Petrograd Side has little to draw visitors - unless you are planning to watch a football or hockey match, that is - this beautiful Cathedral could easily be combined with a visit to the Peter and Paul Fortress, which is only ten minutes' walk away, or on the way to Vasilyevsky Island. There are a number of interesting relics in the Cathedral, including a beautiful, jewel-clad Berlin Bible from 1689, a gift to Empress Elizabeth, and several historic icons. The Cathedral is active, with daily services and a good choir.