Main Post Office (Glavpochtamt)
One of the few historical administrative buildings in St. Petersburg to retain its original function (more or less) to this day, the Main Post Office was built 1782-1789 on the orders of Prince Alexander Bezborodko, chancellor, favourite of Catherine the Great, and head of the postal service, whose own palace had just been completed next door.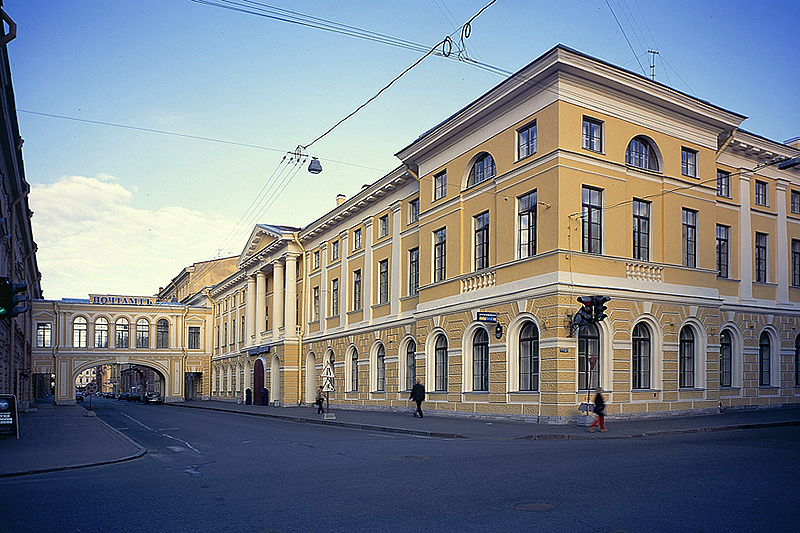 The Central Post Office
The architect, Nikolay Lvov, was also a talented poet, musician and inventor. Although most of his main architectural work was done outside St. Petersburg, his designs for the Main Post Office and reconstruction of the Yaguzhinsky House opposite (now the Museum of the History of Religion) have lead some to declare him one of the greatest practitioners of neoclassicism in Russia. On completion of the building, he and his family lived in apartments there for twelve years.
The building was originally an auxiliary structure, housing the living quarters of some of the service's top officials, as well as stables and workshops in its large courtyard, while the main offices of the postal service were in the Yaguzhinsky House. The buildings switched roles in 1803, and in 1859 Alberto Cavos designed the beautiful covered bridge connecting the first floors of the two buildings.
In 1903, the building's courtyard was turned into Petersburg's first glass-covered atrium. Since then it has been used as the main operations hall, and visitors can view the central granite pillar, marked with a zero. This once marked the official centre of St. Petersburg, from which all road distances to other towns and cities were measured.
| | |
| --- | --- |
| Address: | 9, Pochtamtskaya Ulitsa |
| Metro: | Admiralteyskaya |
| Getting there: | Turn left and left again out of the metro station onto Malaya Morskaya Ulitsa. Walk to the end of the street and straight across Isaakiyevskaya Ploshchad onto Pochtamtskaya Ulitsa. The Post Office is one block down the street on your right. |
| What's nearby? | Museum of the History of Religion, A. S. Popov Central Communications Museum |