Volodarsky Bridge
Volodarsky Bridge was named in honor of M. Volodarsky, an active Bolshevik revolutionary who served as Press Commissar for Petrograd after the Bolshevik Revolution.
Built in the early 1930s, Volodarsky Bridge provided an important new transportation artery in the southeastern part of the city while at the same time boasting many new technical innovations.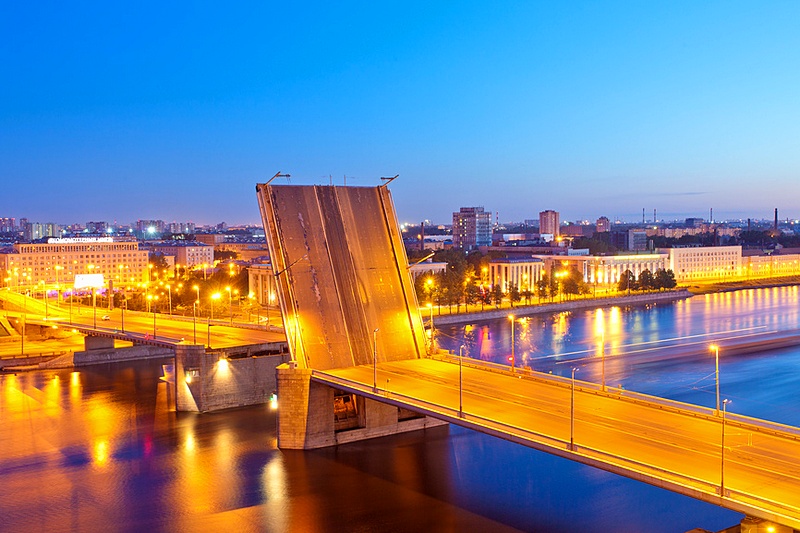 Volodarsky Bridge over the Neva
Volodarsky Bridge was designed by the architect G. Peredery as a triple-span reinforced concrete arched bridge with a two-way driving platform, located underneath the flexible arches, and a double-winged metal drawbridge span that opens up in the middle of the bridge.
The actual design of Volodarsky Bridge is simple and clear-cut and is reminiscent of massive Bolshoi Okhtinsky Bridge, which also spans the Neva River further to the north. It measures 325.4 meters in length, which makes it one of the longer bridges in the Northern capital and 20.2 meters wide. The drawbridge span is 43.6 meters (143.9 feet) wide.
The arches of a polygon form have a rectangular section with a suspension section. Each large span has two flexible arches, which adorn each side and give the bridge a unique silhouette. The reinforced arch-covered spans of Volodarsky Bridge were an innovation in bridge-building at the time.
The drawbridge section was also the first to be covered by trusses connected with elements, which where produced by electric welding. Moreover, the bridge builders were the first to use gigantic pontoons to transfer the heavy reinforced flexible arches from the factory to the bridge construction site. They were were the first to use a steel framework reinforcement system relying on metal tubes filled with concrete.
Critics of the bridge say Volodarsky Bridge's design was a mistake because its massive arches close off the beautiful panorama of the wide Neva River, and the reinforced concrete construction is too massive and awkward and fails to create a harmonious architectural ensemble with surrounding buildings.
Timetable of bridge openings: here