The Palace Bridge
Although it is only a 20th century creation, Palace Bridge is undoubtedly one of the most famous sights of St. Petersburg, and is quite literally unmissable for most visitors to the city, who will find themselves continually using the bridge to move between Palace Square, home to the Winter Palace and the Hermitage Museum, and the numerous historic attractions on Vasilevskiy Ostrov.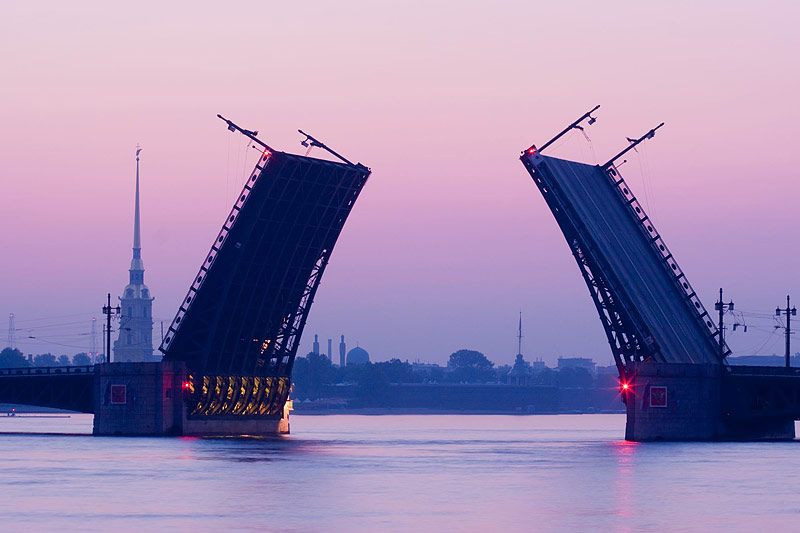 'Postcard view' of Palace (Dvortsovy) Bridge
Despite the grandeur and extravagance of the surrounding architecture, Palace Bridge itself is a relatively simple structure, comprising five cast-iron spans resting on granite-clad, packed-rubble piers. Height of the bridge was strictly limited, so as not to obstruct the view of the monuments around. The central span of the bridge splits into two wings, which are raised through an angle of over 45° to allow ships to pass up the Neva River, and the view of the golden spire of the Ss. Peter and Paul Cathedral between the two raised wings is one of the most widespread and memorable images of St. Petersburg. It also makes Palace Embankment the centre of nightly celebrations during the White Nights, when thousands of locals and visitors gather to watch Palace Bridge open in the small hours.
The history of Palace Bridge dates back to 1901, when a competition for designs for a permanent bridge at the site was announced. Until then, this vital link between two of the oldest sections of the city had been furnished by boat or by a pontoon bridge 50 meters downstream, a legacy of Peter the Great's interdict on bridge-building in his new capital (he believed this would encourage the population to become competent sailors).
It took eight years for the jury to choose a winner. They opted for designs presented by Andrey Pshensitsky, a recent graduate of the St. Petersburg Institute of Communications Engineering. Celebrated Art Nouveau designer and artist Roman Meltzer was commissioned to design the bridge's architectural decorations, and construction eventually began in 1912.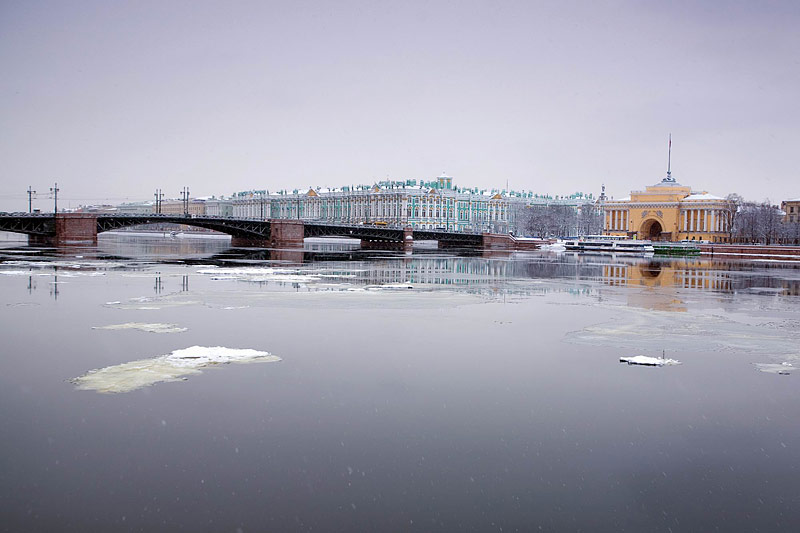 Palace Bridge and ice floating down the river
The onset of the First World War severely interfered with the completion of the project, and the eventual opening of Palace Bridge in 1916 was a discrete affair, with most of the decorative elements of the designs incomplete. It was not until 1939, by which time the bridge had been renamed Republican Bridge, that the ornate cast-iron railings and lampposts, the lion sculptures and the bridge's pavilions were eventually completed.
The bridge's original name was returned in 1944, and Palace Bridge has since been fully restored several times since, most recently in 1997. The bridge now carries over 30,000 cars a day, and is the site of some of St. Petersburg's heaviest traffic jams. Nonetheless, views from the bridge - of the Winter Palace, of the Peter and Paul Fortress, and of the rows of palatial buildings along both banks of the Neva - are some of the most impressive in the city.
Timetable of bridge openings: here