Lomonosov Bridge
Named after the great Russian polymath Mikhail Lomonosov, whose advances in chemistry, mathematics, linguistics and literature made him a kind of one-man Russian Enlightenment during the reigns of Empresses Elizabeth and Catherine the Great, this beautiful stone bridge crosses the Fontanka River about 300m south of Nevsky Prospekt. Dating from the late 18th century, and with its original design still intact, Lomonosov Bridge is well worth a short detour.
Originally called Chernyshev Bridge in honour of Count Grigory Chernyshev, one of Peter the Great's most prominent generals, whose estates were located nearby, the bridge was erected in 1785-87 and replaced a wooden bridge which had previously stood at the site. It was one of seven stone moveable bridges of similar design crossing the Fontanka River, built simultaneously with the river's granite embankments. Only Lomonosov Bridge and Staro-Kalinkin Bridge have survived more or less intact.
Measuring 57.1 meters, the bridge consists of two broad, arched side-spans, and a shorter central span that was originally of wood, but replaced with steel in 1913. Although Lomonosov Bridge no longer rises to allow passing traffic, it has retained its four charming Doric pavilions, which once housed the drawbridge mechanism. It is these that give the bridge its distinctive outline and particular charm.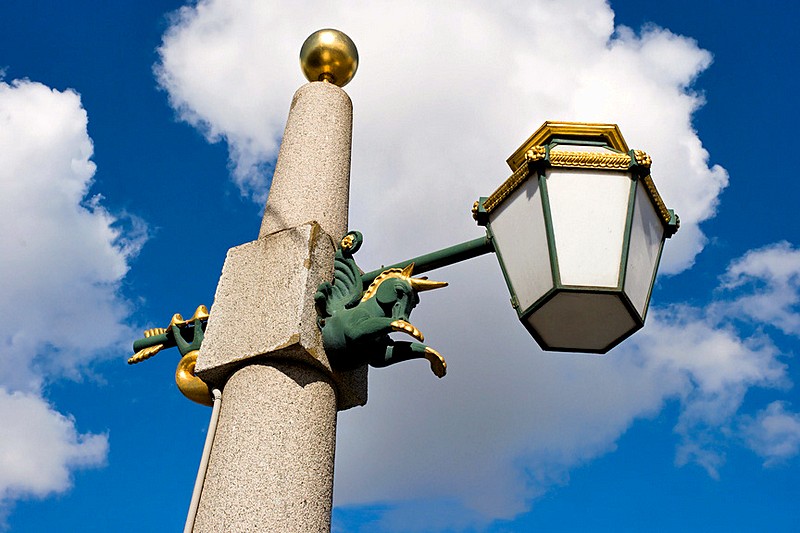 Elegant lantern on Lomonosov Bridge over the Fontanka River
In 1915, granite obelisks with elegant cast-iron streetlamps were added to the bridge, and in 1948, the bridge was given its current name.