Tolstoy House (Apartment Building of Count Mikhail Tolstoy)
A huge apartment house that became one of the symbols of Style Moderne (Art Nouveau) architecture in St. Petersburg, the Tolstoy House is particularly notable for the fact that its inner courtyards, which link Ulitsa Rubinshteina to the Fontanka River Embankment through four monumental Renaissance-style arches, have facades as richly decorated as those facing the street.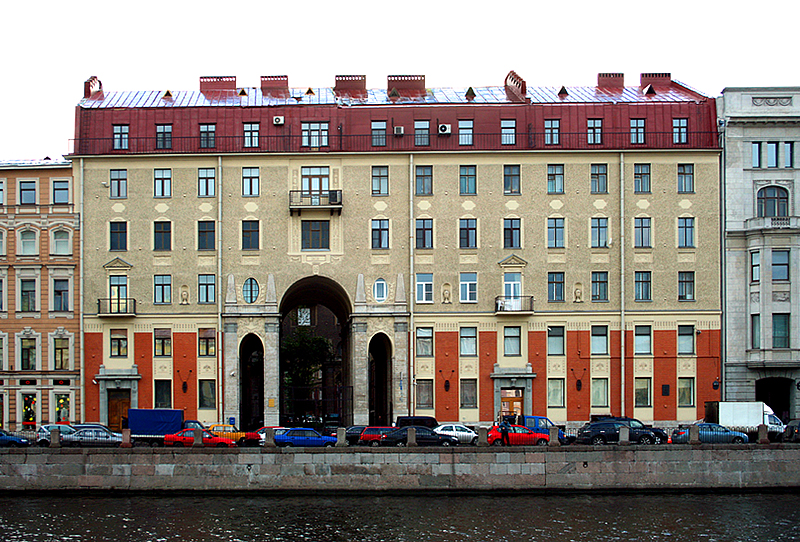 Tolstoy Apartment Building, built for Mikhail Tolstoy
The Tolstoy House was built 1910-1912 by the Russian-Swedish architect and master of "Northern Moderne", Fyodor Lidval, for Count Mikhail Tolstoy, a hero of the Russo-Turkish War of 1877-1878 and a distant cousin of Leo Tolstoy. The decoration of the facades utilized oval windows with moldings of different texture and color plaster in typical Art Nouveau style. In the Soviet era there was a fountain and many poplars in the middle of the yard.
The Tolstoy House is well known for its many Petersburg celebrity tenants, who currently include the internationally renowned artist Mihail Chemiakin, the sponsor and general director of the Mikhailovsky Theatre Vladimir Kekhman and, until his recent death, the popular Soviet singer Eduard Khil, better known to Youtube viewers as Mr. Trololo.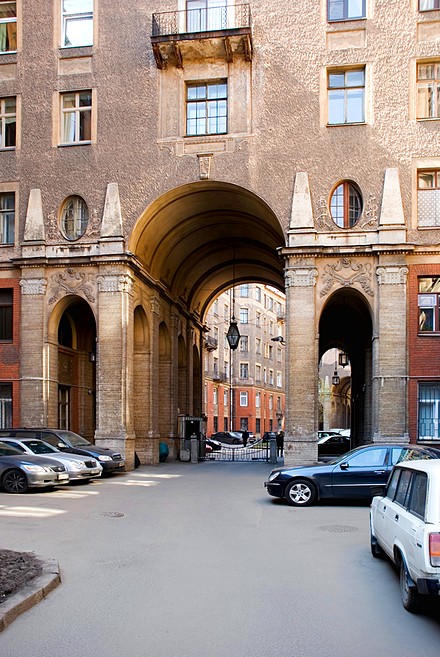 Courtyard of the Tolstoy Apartment Building
The gates of the Tolstoy House are closed at night, but during the day it is still possible to walk through the Tolstoy House and admire one of the most striking architectural works of the Silver Age in St. Petersburg.
| | |
| --- | --- |
| Address: | 15-17, Ulitsa Rubinsteina / 54, Naberezhnaya Reki Fontanki |
| Metro stations: | Vladimirskaya / Dostoyevskaya |
| Directions: | Turn right out of Dostoevskaya Metro Station (or cross Valdimirsky Prospekt from Vladimirskaya) along the alley to Ulitsa Rubinshteina. The Tolstoy House is slightly to the right across the street. |
| What's nearby? | Naberezhnaya Reki Fontanki (Fontanka Embankment), Ulitsa Rubinshteina, Cathedral of the Vladimir Icon |
Dining near the Tolstoy House
RESTAURANTS:
Editors' picks