Schroter Mansion and Apartment Building
A Petersburg-born Baltic German who studied at the Berlin Academy of Art (where he was awarded a gold medal), Viktor Schroter proved an immensely versatile architect who embraced the eclectic movement's ideals of adapting and juxtaposing the best features of the architecture of the past. He was also an innovator who sought to provide high quality buildings at lower cost, and it was in this capacity that he pioneered the so-called "brick style", using durable bricks fired at high temperatures without plaster covering. These two neighboring buildings on the Moyka Embankment are excellent examples of the genre.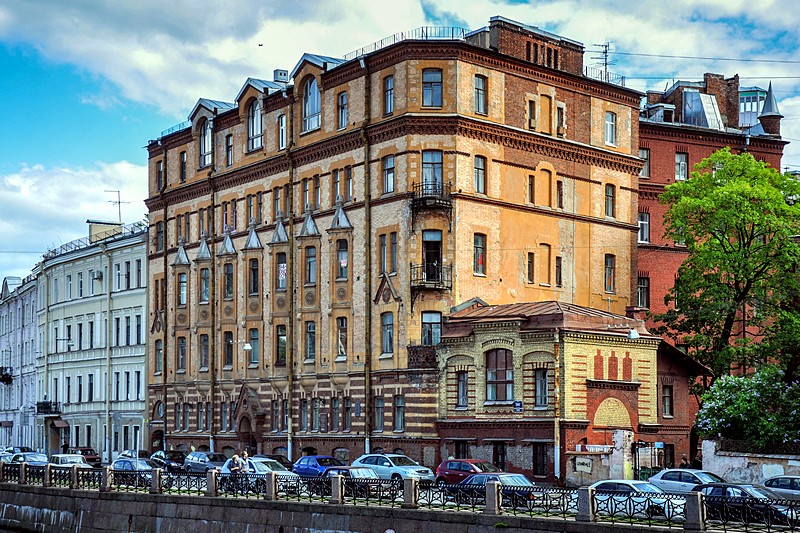 Schroeter Apartment building on the Fontanka River
Standing near the western end of the Moyka, opposite New Holland, Schroter's two-story mansion was built in 1891. The gothic style of the building is emphasized by its large windows, sharp-angled turrets, and gables. The interiors, although not fully preserved, were clearly much grander than the picturesque facades might suggest, including a grand marble staircase, plaster reliefs depicting frolicking cherubs, and stained glass throughout. The architect lived here until his death in 1901, and subsequently from 1928 to 1970 the outstanding Soviet organist and teacher Isay Braudo lived in the mansion.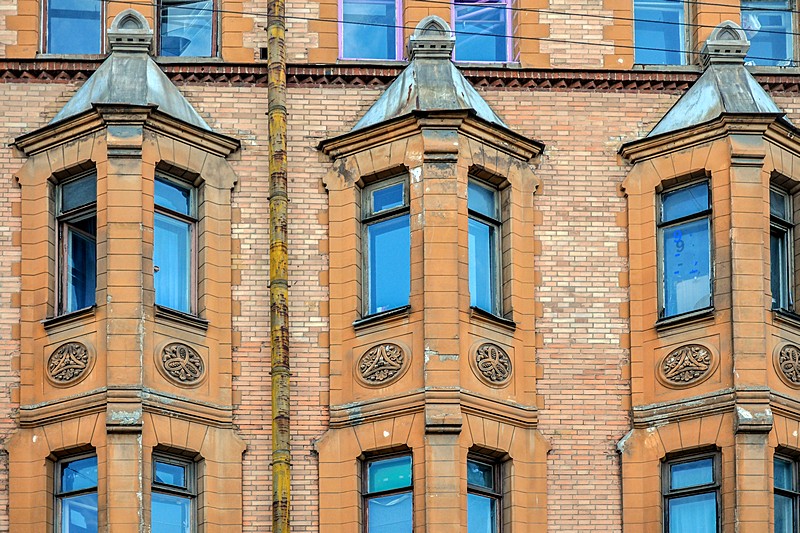 Bay windows of the Schroeter Apartment building
In 1897-1899, Schroter erected the neighboring apartment house. Here he brought his innovative "brick style" to perfection. The building's facades are lined with high quality facing bricks and also feature echoes of Gothic forms. A row of pointed bay windows protrudes slightly from the main facade, increasing illumination in the apartments, and leading to the house often being referred to as the "House with Bay Windows". The top floor housed artists' studios with large windows. Blending superbly with the mighty red-brick walls of New Holland opposite, Schroter's Mansion and Apartment Building provided definitive proof that the "brick style" was suitable for more than simply industrial buildings.
| | |
| --- | --- |
| Address: | 112 / 114, Naberezhnaya Moyki |
| Directions: | The easiest way to reach the Schroter House is to take a No. 100 westbound along Nevsky Prospekt and travel to the intersection with the Moyka River. |
| What's nearby? | Novaya Gollandia (New Holland), Palace of Grand Duke Alexander Mikhailovich, Palace of Grand Duke Alexei Alexandrovich |
Dining near the Schroter Mansion and Apartment Building
RESTAURANTS:
Editors' picks