Rosenshtein House ("House with Towers")
Among the most striking architectural landmarks on the Petrograd Side, the Rosenshtein Apartment Building dominates Ploshchad Lva Tolstogo (Leo Tosltoy Square), at the intersection of the area's two main thoroughfares, Bolshoy Prospekt and Kamennoostrovsky Prospekt. Popularly known as the "House with the Towers", its architecture is an utterly unique mixture of neoclassical and neogothic styles, with its two unmistakable hexagonal towers apparently based on the gatehouse of Maxstoke Castle in Warwickshire, England.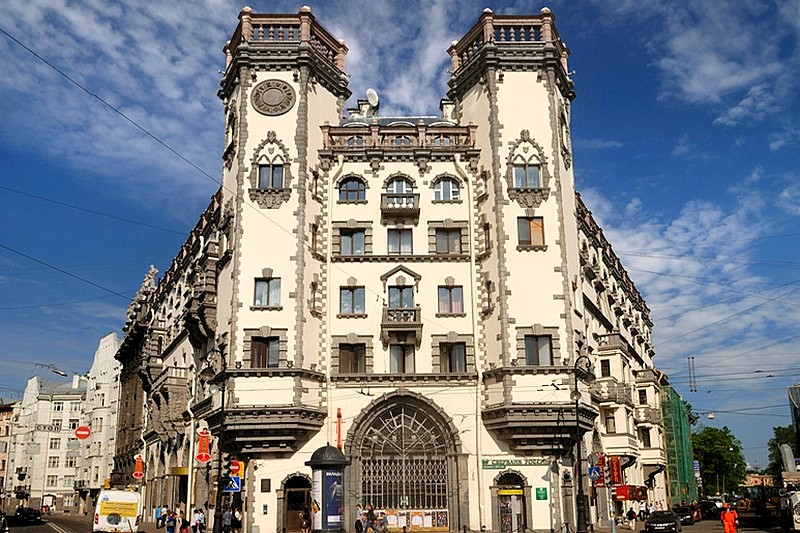 Rosenstein House (House with Towers) on Ploshchad Lva Tolstogo
As the Petrograd Side developed in the last years of the 19th century, the site of the Rosenshtein House became home to the Kamennostrovsky Velodrome and Northern Ice Rink, a sports arena that witnessed the first ice-hockey match in Russia, played in 1898 with a ball rather than a puck, and in the summer of the same year the first Russian exhibition boxing match.
The landplot was acquired in 1910 by Konstantin Rosenshtein, a Ukranian-Jewish civil engineer, architect and factory director. The general design of the building was his, while the elaborate decorations were the work of the artist and architect Andrey Belogrud, whose passion for the Middle Ages (as well as the triangular layout of the plot) gave the building its highly distinctive exterior. Inside, the engineering of the house met the highest standards of the time: the apartments were equipped with gas stoves, a sunken bathtubs, heated closets for drying laundry, and fitted wardrobes. There was also a garage in the courtyard. Construction was completed in 1915.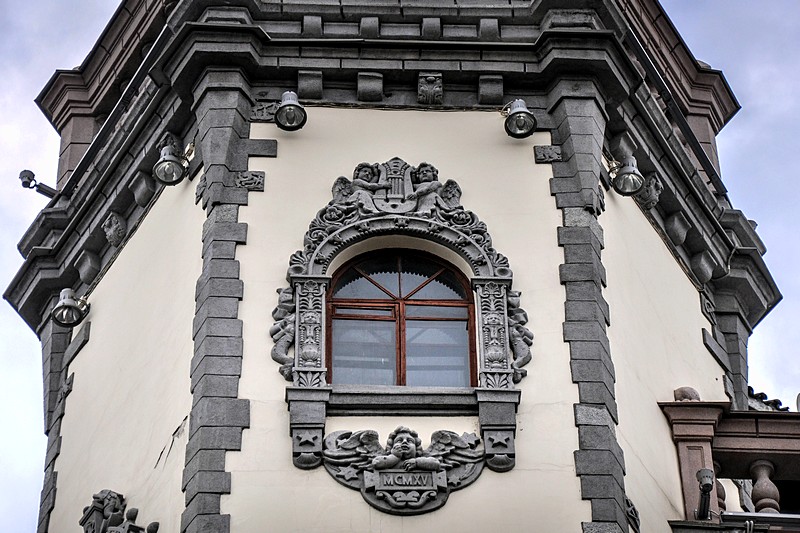 Mock Gothic decoration on the Rosenstein House
Before the 1917 revolution, Belogrud himself lived in the highest apartment between the towers, and other residents included the writer Leonid Andreyev and opera singer Alexander Davydov. From 1921 to 1972, the first floor of the "House with Towers" housed a cinema, which then became the Leningrad Television Studio, which in turn was converted into a theatre in 1985. Since 1996, it has been home to the Andrey Mironov Private Theatre, which was the first official non-state theatre in the USSR.
Until 1955, the facade of the building was used to display a huge full-length portrait of Stalin on public holidays (October Revolution Day on November 7, International Workers' Day on May 1). The portrait took up the entire space between the towers and blocked nearly all the windows of the main facade.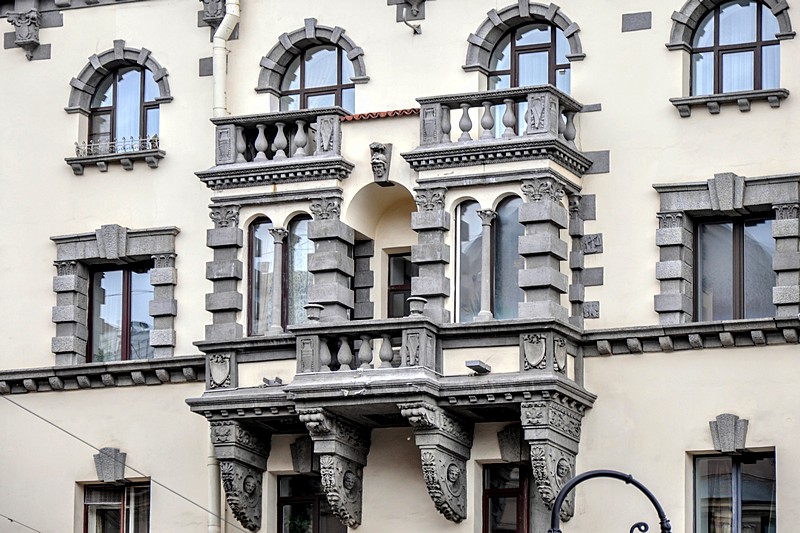 Part of the facade of the Rosenstein House
The facades of the House with Towers have recently been fully restored after a fire in 2009, and it remains one of St. Petersburg's most exotic and best-loved buildings.
| | |
| --- | --- |
| Address: | 35, Kamennoostrovsky Prospekt / 75, Bolshoi Prospekt |
| Metro stations: | Petrogradskaya |
| Directions: | Exit Petrogradskaya Metro Station from the street-level exit, turn left and walk 50 m to Ploschad Lva Tolstogo (Leo Tolstoy Square) |
| What's nearby? | Kamennoostrovsky Propsekt, Bolshoi Prospekt (Petrogradskaya side), Ploschad Lva Tolstogo (Leo Tolstoy Square) |