Nikonov Apartment House
With the obvious and prominent exception of the Church of Our Saviour on the Spilled Blood, there are not many buildings in St. Petersburg in the Russian Revival style of the late 19th century, and most of them are churches in the outlying regions of the historic centre. A remarkable exception is the Nikonov Apartment House on Kolokoknaya Ulitsa, a few steps from the Church of the Vladimir Icon of the Mother of God.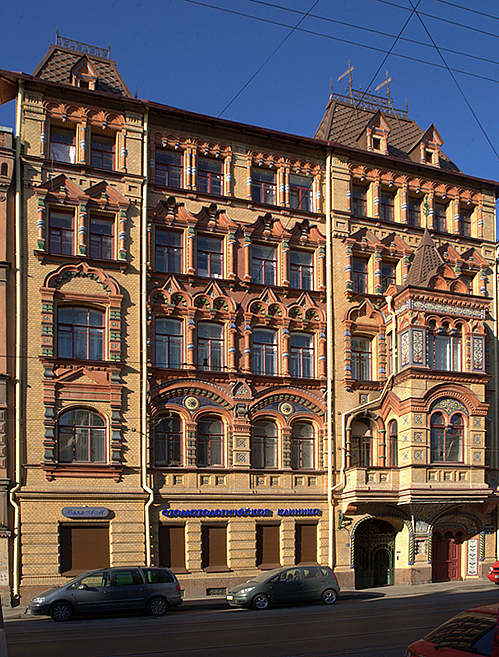 Nikonov Apartment Building on Kolokolnaya Ulitsa
The owner and designer of the building, Nikolay Nikonov, was a leading proponent of the Russian Revival style, responsible for many notable churches and monasteries in Moscow, Tallinn, Poltava, New Athos (in Abkhazia), on the island of Valaam, and in St. Petersburg and its suburbs. Nikonov's most famous Petersburg work is the Convent of St. John of Rila on the Karpovka River Emankment on the Petrograd Side. Another excellent example of his work, the Church of the Holy Trinity, stood only a few minutes' walk from his apartment building on the corner of Ulitsa Marata and Stremyannaya Ulitsa, but was demolished in 1964 during the construction of Moskovskaya Metro Station.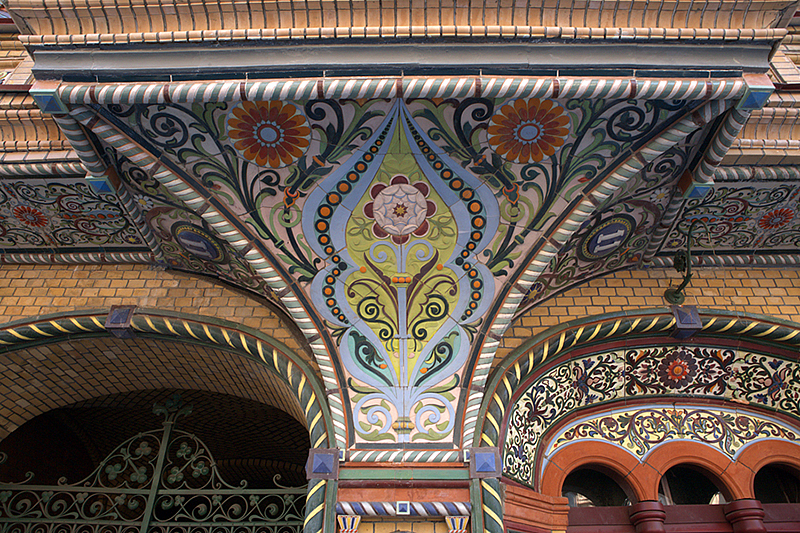 Detail of facade decorations of the Nikonov Apartment Building
In 1899, Nikonov acquired the merchant Zimin's two-story house on Kolokolnaya Ulitsa and rebuilt it to reach five stories. In decorating his building, Nikonov gave free rein to his imagination. Using ceramics made at the renowned Nikolay Gogol School of Technical Art in Ukraine, Nikonov decorated almost every brick on the facade of his house. Windows, cornices, columns, and balconies were all decked out with colorful majolica decorations, mostly floral ornaments. A tent-like roof, "melon" columns, and "kokoshniki" (arch-like semi-circular decorations named after a traditional type of headgear) combined to make the building almost an encyclopedia of traditional Russian architecture.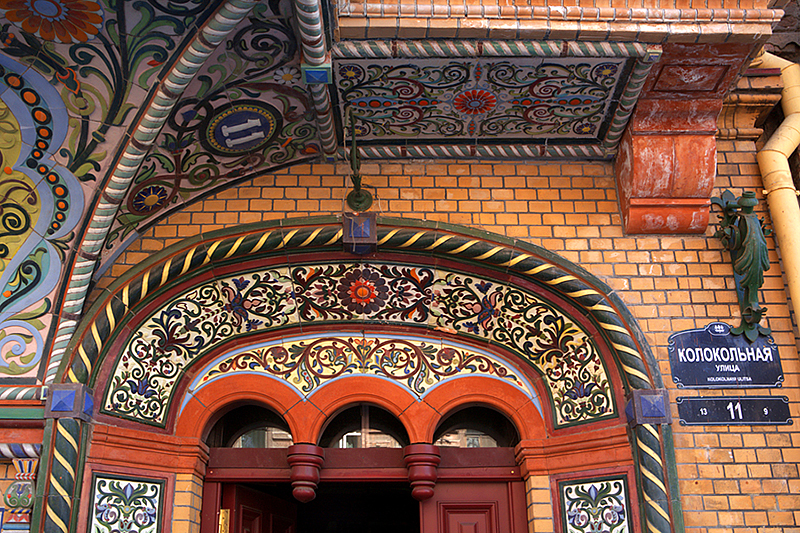 Nikonov Apartment Building: Entrance to a fairy-tale house
Nikonov's decorative zeal extended to the interiors and courtyard of his building. Inside can be found stained-glass windows with floral patterns reminiscent of Art Deco, vaulted ceilings, and decorative plasterwork. Unlike many St. Petersburg houses, the courtyard's facades are decorated although more modestly than the main facade. In the courtyard, reached through a vaulted brick archway, a charming semi-circular tower houses one of the building's staircases.
After a fire in the building in 2009, the main facade has been fully restored.
| | |
| --- | --- |
| Address: | 11, Kolokolnaya Ulitsa |
| Metro stations: | Vladimirskaya |
| Directions: | From Vladimirskaya Metro Station, walk straight along Vladimirsky Prospekt and turn right go past the Church of the Vladimir Icon of the Mother of God onto Kolokolnaya Ulitsa. The Nikonov House is to the right about 150 m along the street. |
| What's nearby? | Vladimirsky Prospekt, Church of the Vladimir Icon of the Mother of God, Zagorodny Prospekt, Ulitsa Marata, Bubyr House on Stremyannaya |
Dining near the Nikonov Apartment House
RESTAURANTS:
Editors' picks