Kapustin Apartment House
Located in the south-west of the historic centre of St. Petersburg, on the Fontanka River Embankment, this imposing red-and-brown building was at the cutting edge of design when it was built in 1907-1909.
The house was designed by Alexey Bubyr and built by its owner, Konstantin Kapustin, the son of a wealthy merchant family who inherited the landplot at 157-159, Naberezhnaya Reki Fontanki. Both were graduates of St. Petersburg's Institute of Civil Engineering. From his student days, Kapustin was a pioneering automobile enthusiast and racer, founder of the St. Petersburg Automobile Club. In 1908, he drove his Renault 12 CV from St. Petersburg to the Crimea. Later, both Kapustin and Bubyr were involved in the establishment of the Russian Renault enterprise, one of the first efforts at mass production of automobiles in Russia - Bubyr designed the company's instrument-building factory in St. Petersburg (69, Bolshoy Sampsonievsky Prospekt), while Kapustin supervised construction of the company's main manufacturing plant in the town of Rybinsk.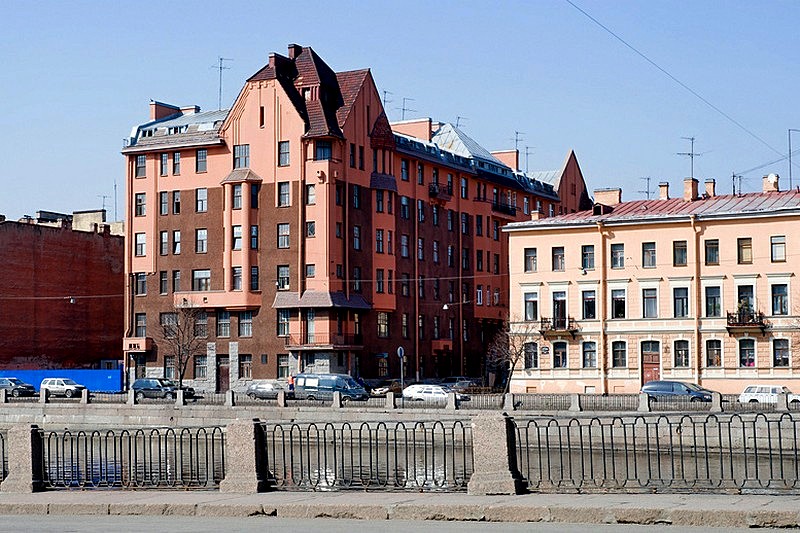 Kapustin Apartment Building on the Fontanka River Embankment
The Kapustin House is among the earliest works of Alexey Bubyr, who became one of St. Petersburg's leading industrial and civil architects before his career was cut short by the October Revolution. His designs for this and other St. Petersburg apartment buildings are extreme examples of "Northern Moderne", sharing the movement's rejection of symmetry and fondness for convoluted forms, textured plasterwork, irregular balconies and roof projections. He rejected, however, the more whimsical features of the movement, and in the simplicity of its decoration the Kapustin House can be seen almost as the architectural embodiment of a suprematist aesthetic, where form and colour alone are important.
Although it is certainly not among the most beautiful buildings in St. Petersburg, recent renovation allows us to see just how "modern" the Kapustin House is, sharing features with many residential developments constructed in the city in the post-Soviet period.
Address:
159, Naberezhnaya Fontanki / 9, Klimov Pereulok
Metro stations:
Baltiskaya, Technologichesky Institute, Sadovaya
Directions:
From Baltiskaya Metro Station, cross the Obvodny Canal and walk along on Lermontovsky Prospekt until you reach the Egyptian Bridge over the Fontanka River. The Kapustin House is immediately to your left.
From Tekhnologichesky Institute Metro Station, turn left exiting the metro and cross Moskovsky Prospekt onto 1-ya Krasnoarmeyskaya Ulitsa. Follow the street straight on for six blocks until you reach Lermontovsky Prospekt. Turn right, cross the Egyptian Bridge over the Fontanka River and immediately turn left.
From Sadovaya Metro Station walk (or take a bus) south along Sadovaya Ulitsa to Lermontovsky Prospekt. Continue 200 m to the Fontanka River and turn right.
What's nearby?
Fontanka River, Egyptian Bridge
Dining near the Kapustin Apartment House
RESTAURANTS:
Editors' picks