House of Academics
This house on the Lieutenant Schmidt Embankment is one of the oldest apartment buildings in St. Petersburg and one of the most famous, thanks not to its relatively plain neoclassical architecture, but to the scores of renowned Russian scientists who have lived here. The facades of the building are covered with nearly 30 memorial plaques honoring their life and works. It is possible to enter the building and visit the apartment-museum of perhaps the most famous resident, the great physiologist Ivan Pavlov.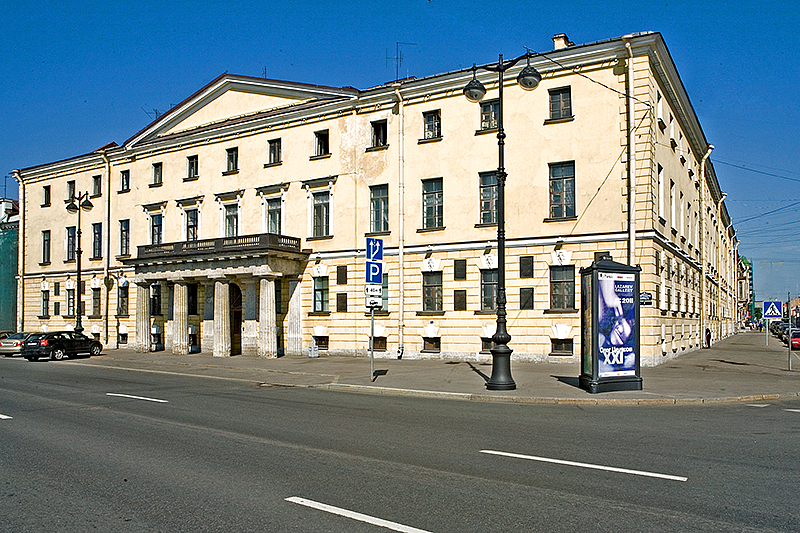 Academicians' House on Lieutenant Schmidt Embankment
After the construction of the Academy of Sciences on Vasilevsky Island, the southern part of the island became the center of the city's scientific life, and of course, the academicians wanted to live close to their workplace. In 1758, architect Savva Chevakinsky rebuilt two small houses into one complex on the waterfront that was presented to the Academy. One of the first inhabitants of this house was the self-taught inventor Ivan Kulibin, who impressed Catherin the Great by building a clock that consisted of 427 minute details and was the size of an egg.
More than one hundred academicians lived in the house over a two-and-a-half-century span. Among them were the world famous physicist Moritz von Jacobi, mathematician Mikhail Ostrogradsky, philologist Yakov Grot, geochemist Vladimir Vernadsky, and sinologist Vasily Alexeev. From 1918 to 1936, the first Russian Nobel laureate Ivan Pavlov lived here. Since 1949, the centenary of Pavlov's birth, his apartments in the House of Academics have been open as a museum. For visitors interested in the history of Russian science, the House of Academicians can easily be incorporated into a tour of the many connected sites on Vasilevskiy Island.
| | |
| --- | --- |
| Address: | Naberezhnaya Leitenanta Schmidta, 1 |
| Metro stations: | Vasileostrovskaya |
| Directions: | Exit Vasileostrovskaya metro station and turn right round the corner onto 7-ya Liniya. Follow the street to the embankment, and the House of Academicians is on your right. |
| What's nearby? | Universitetskaya Naberezhnaya (University Embankment), 6-ya / 7-ya Liniya (6th and 7th Lines), Blagoveshchensky (Anunciation) Bridge, Pel Pharmacy, Academy of Fine Arts |