First Residential House of Lensovet
One of the last and finest examples of constructivism in St. Petersburg, this apartment building on the Karpovka River Embankment embodies the best features of "modern" architecture in the 1920s, combining striking innovation with simply elegant forms and great practicality. It helps that this particular building was constructed for members of the Leningrad Soviet and other leading Party officials, so no expense was spared.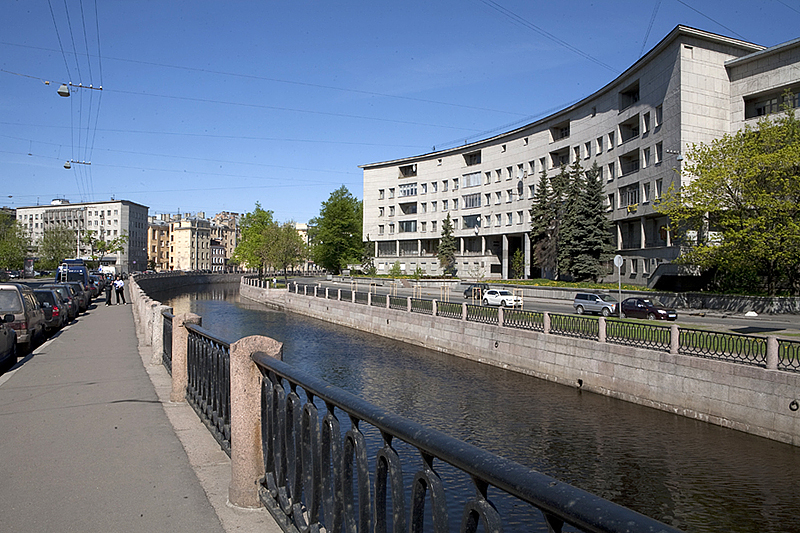 Lensoviet House on the bank of the Karpovka River
Its designers were the famous Leningrad architects Evgeniy Levinson and Igor Fomin. Although essentially formalist, the building and yards feature a variety of small decorative touches, and there are fountains, terraces, an open gallery, and stone vases with bas-reliefs. It is fairly easy to see how the style was quickly adapted to conform to Stalin's preferred authoritarian neoclassicism.
The interiors were also extremely comfortable. All apartments had fitted furniture and bathrooms and some even had two-stories with oak staircases. In addition to the 76 apartments, there was a kindergarten, laundry, shop, apartment personnel, and a solarium on the roof. Between the two wings of the building sits a large courtyard with a gazebo, though this is closed to non-residents.
Apartments in the building are still highly desirable, although unfortunately there is little enthusiasm in St. Petersburg for preservation of 20th century buildings, and the facades are in serious need of maintenance work.
| | |
| --- | --- |
| Address: | 13, Naberezhnaya Karpovki |
| Metro stations: | Petrogradskaya |
| Directions: | Exit Petrogradskaya Metro Station from the street-level exit and turn left then left again onto Bolshoi Prospekt. Follow the street across the Karpovka River, and the building is on your left. |
| What's nearby? | Botanichesky Sad (Botanical Garden), Bolshoi Prospekt (Petrograd side), Baranovsk Apartment House, Diederich Apartment House |
Accommodation near the First Residential House of Lensovet
Dining near the First Residential House of Lensovet
RESTAURANTS:
Editors' picks