Evmentev House ("House with a rotunda")
Dating from the late 18th century, this green three-story building on the Fontanka River Embankment is notable not only as one of the older apartment buildings in St. Petersburg but also for the scores of legends, tall tales, and true stories associated with it. The source of the mysterious reputation of this house at the corner of the Fontanka River Embankment and Gorokhovaya Ulitsa is the "rotunda", the unusual columned space in the centre of the building.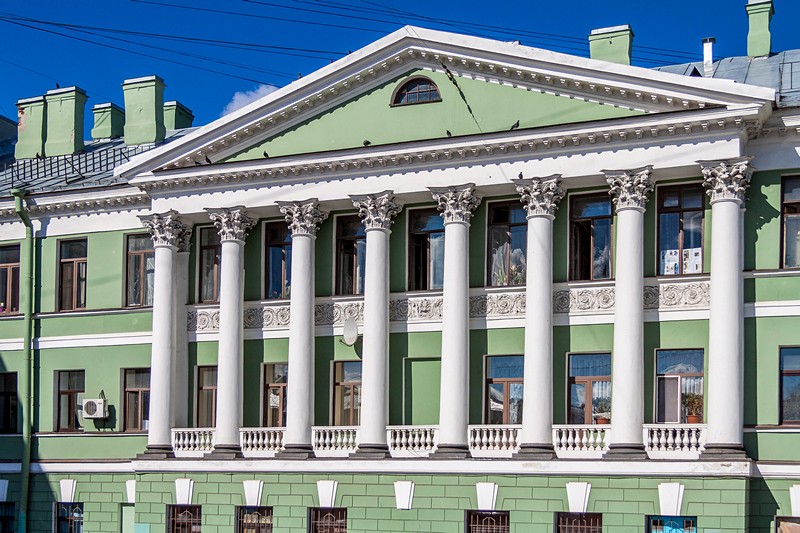 Neoclassical facade of the Evmentev House
The house was built in the 1780s-90s in the simple neoclassical style of the time. The facades are unremarkable except for the eight-column portico and sculptures facing the Fontanka Rover. The house's courtyard and the entrance to the apartment are also typical of St. Petersburg buildings of the period, and from the outside there is little to differentiate the building from its neighbours. If you can get into the lobby however, you will be able to see the extraordinary rotunda, with its six free-standing columns. Since 1856, the rotunda has born a cast iron staircase that seems to rise indefinitely along the curves of the walls.
Local legends associate this unusual architectural feature with Masons and even with Satanists. Allegedly, the Masons secretly gathered here in the 19th century, while it was also supposed to be a popular haunt for the "Mad Monk", Grigory Rasputin. Even more fanciful is the theory that there are six rotundas in St. Petersburg, five of them forming an inverted pentagram on the map. The rotunda on Gorokhovaya stands at the centre, making it the key satanic site in the city. Another popular legend tells of a young man who went to the basement under the rotunda, stayed there for 15 minutes, and came out a white-haired man of 70.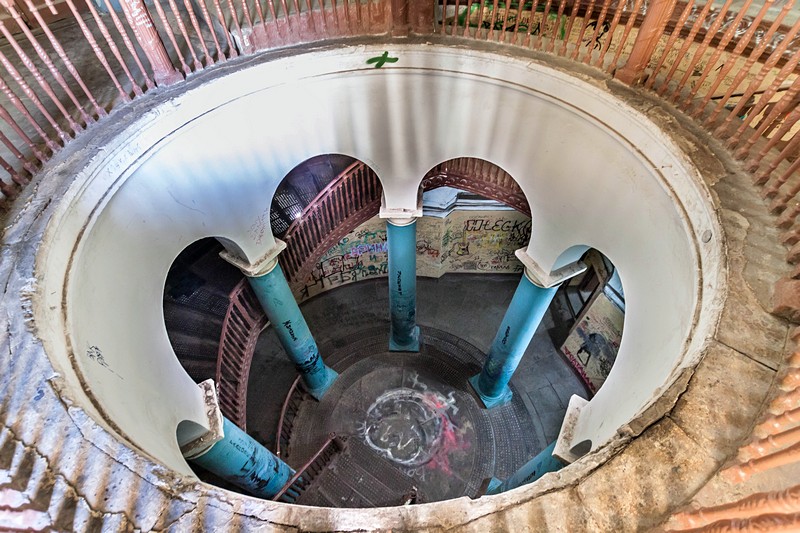 Rotunda of the Evmentev House - the most mystical place in St. Petersburg
By the late seventies, these legends had made the rotunda a popular place for unofficial gatherings of Leningrad's hippies and rockers. Among them were some of Russia's greatest rock musicians, including Viktor Tsoy from Kino and Alisa's Konstantin Kinchev.
While the exterior of the Evmetyev House has recently been fully restored and replastered, the rotunda remains covered with chipped paint and densely packed graffiti, a prime example of the rich and wild secret life that can be found behind St. Petersburg's solemn formal facades.
| | |
| --- | --- |
| Address: | 57, Gorokhovaya Ulitsa |
| Metro stations: | Sennaya Ploschad / Spasskaya / Sadovaya |
| Directions: | Exit Sennaya Ploschad Metro Station and turn right along Sadovaya Ulitsa toward Nevsky Prospekt. Take the second turning on your right onto Gorokhovaya Ulitsa, and walk to the Fontanka River. |
| What's nearby? | Fontanka River, Semyonov Bridge, Sadovaya Ulitsa, House of Ustinov Merchants |
Dining near the Evmentev House
RESTAURANTS:
Editors' picks