Communal House of Artists and Engineers ("Tears of Socialism")
Situated in the heart of the city, a few steps from Nevsky Prospekt, this six-story building comprising 53 apartments is one of the few examples of constructivist architecture in the historic centre.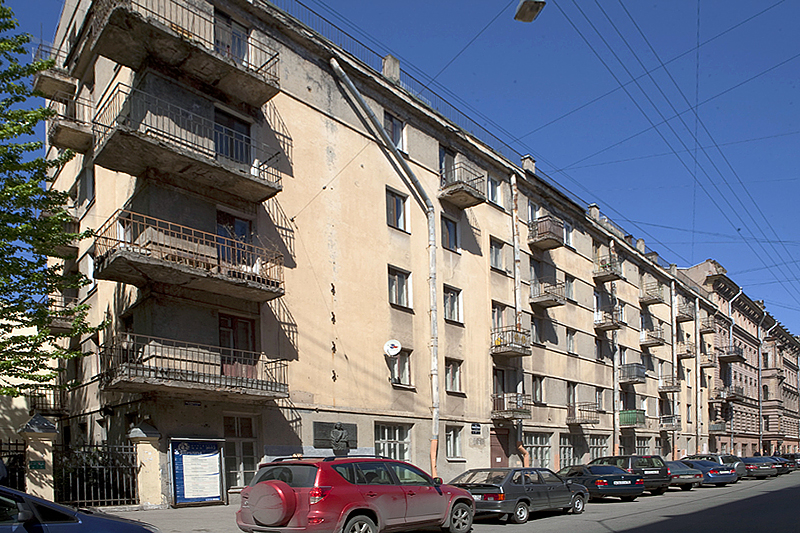 "The Tear of Socialism" commune-house on Ulitsa Rubinshteina
The building was constructed 1929-1931 by Andrey Ol, a gifted architect and former pupil of Fyodor Lidval whose career spanned Art Nouveau, constructivism and Stalinist Neoclassicism. His greatest successes were in the latter genre and he was particularly prolific in later years, designing scores of residential buildings in situ, as well as blueprints that were copied all over the city and throughout Russia.
This Communal House of Artists and Engineers was certainly not among his best works, and came to be known as the "Tears of Socialism". Lacking the sleek, anchored proportions or the striking geometric forms of the best constructivist works, it is famous not for its aesthetic value, but as one of the experiments in communal living that marked the few major construction projects of the late 1920s. None of the apartments were equipped with kitchens, and the young engineers and writers that constituted its earliest residents were fed in a canteen with 200 seats. The ground floor also had a creche and library.
The literary talent that lived in the building in 1930s included some of the most popular writers of the day, although few have stood the tests of time, the most important exception being the poet Olga Begholz. Like many of the house's residents, she was repressed during Stalin's purges, spending seven months in prison in 1938. During the Siege of Leningrad, however, her near daily radio broadcasts of heroic verse inspired the city, and made her one of St. Petersburg's most cherished literary figures. Although she once described the building as "the most ridiculous house in Leningrad", she describes it with a mixture of wistful affection and regret inher post-war poem Moy Dom ("My house"). There is an elegant plaque featuring a half-length sculpture of her on the side of the building.
| | |
| --- | --- |
| Address: | 7, Ulitsa Rubinsteina |
| Metro stations: | Dostoyevskaya / Vladimirskaya |
| Directions: | From Dostoevskaya Metro Station, turn right along Shcherbakov Pereulok and right again onto Ulitsa Rubinsteina |
| What's nearby? | Fontanka River, Nevsky Prospekt, Vladimirsky Prospekt, Apartment House of Count Tolstoy |
Dining near the Communal House of Artists and Engineers
RESTAURANTS:
Editors' picks