Communal House for the Society of Political Prisoners
Built as a reward for former political prisoners of the Tsarist regime, this apartment building on Trinity Square (then Revolution Square), one of the oldest areas of St. Petersburg, was built 1929-1933. At the time, it was not only a striking architectural statement of the new order of political power, but also a model for the new egalitarian society that the Bolsheviks hoped to create once they had cleared away the dead wood of the old regime. The fate of the building mirrors the fate of the whole Revolutionary project.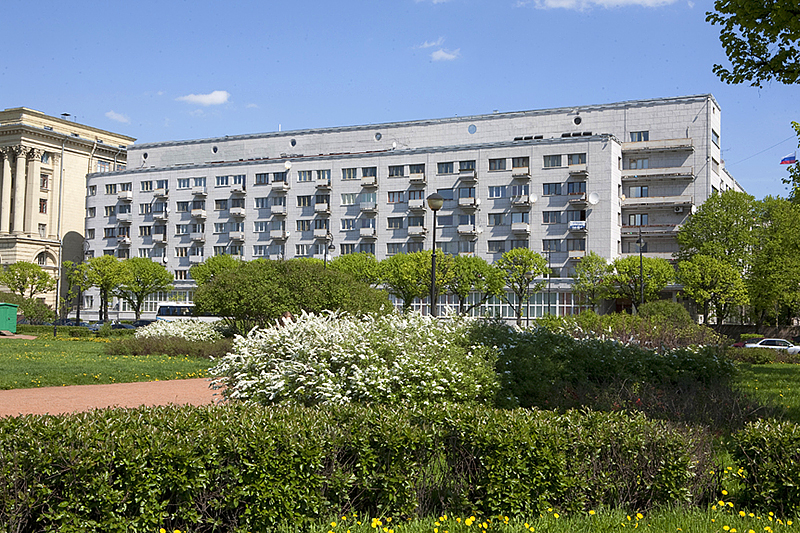 Commune-house of the Society of Political Prisoners on Trinity Square
One of St. Petersburg's most prominent constructivist buildings, the House of Political Prisoners was designed, like nearly all the few major residential construction projects of the 1920s, to foster a new communal lifestyle among its residents. The building comprised seven wings containing apartments of different sizes, all equipped with central heating and their own baths, luxuries that prior to the Revolution had been available in only the most prestigious apartment houses.
To free (forcibly) women from the drudgery of domestic labour, no apartments had their own kitchens. Instead, there was a large central canteen and electrified "cupboards" for reheating meals. The house also boasted mechanized laundry rooms and a kindergarten. Wholesome leisure pursuits were encouraged, and the building was equipped with a library, workshops, a Museum of Penal Servitude and Exile, and a 500-seat theatre. On the roof there was a solarium and an observation platform.
Only two years after the building was completed, however, the Society of Former Political Prisoners was disbanded and many of the residents found themselves once again persecuted by the powers that be. As new tenants appeared in the building, they began to remodel the apartments and to install private kitchens. Gradually the public spaces and facilities fell into disuse, and the once sleek modern interiors became as shabby and makeshift as those of the city's many communal apartments.
In the 1950s, moreover, this striking symbol of modernity was overwhelmed by the monumental Lenproekt Institute building, a Stalinist neoclassical monster that, according to original plans, should have subsumed entirely the by then officially denigrated House of Political Prisoners. Fortunately, this was one of the many grandiose construction plans that fell by the wayside after Stalin's death, and the House of Political Prisoners remains as an elegant testament to lost Utopian dreams.
The "Solovestky Stone", a memorial to the many residents of the house, who suffered under Stalin's repressions, is located in the garden on Trinity Square and was dedicated in 1990.
| | |
| --- | --- |
| Address: | 1, Troitskaya Ploschad / 2, Petrovskaya Naberezhnaya |
| Metro stations: | Gorkovskaya |
| Directions: | Exit Gorkovskaya Metro Station, cross Kamennoostrovsky Prospekt using the underpass and walk right along the avenue to the Neva River. Turn left across Troitskaya Ploshchad to reach the House of Political Prisoners. |
| What's nearby? | Petrovskaya Naberezhnaya (Petrovskaya Embankment), Kamennoostrovsky Propekt, Cabin of Peter the Great, Kschessinska Mansion / Museum of the Political History of Russia, Alexandrovsky Park, Peter and Paul Fortress |
Dining near the Communal House for the Society of Political Prisoners
RESTAURANTS:
Editors' picks