Bubyr House on Stremyannaya
Located on a quiet side street close to Nevsky Prospekt, the Bubyr Apartment House is one of the finest examples of "Northern Moderne" in St. Petersburg, with facades that are in equal parts charming and foreboding. The building's rich decorations depict a veritable menagerie of fish, birds, reptiles, and mythical creatures. Solar symbolism is also featured heavily. Materials are perfectly combined and juxtaposed - granite, brick, tile, plaster, and brightly colored stained glasses of owls and snakes.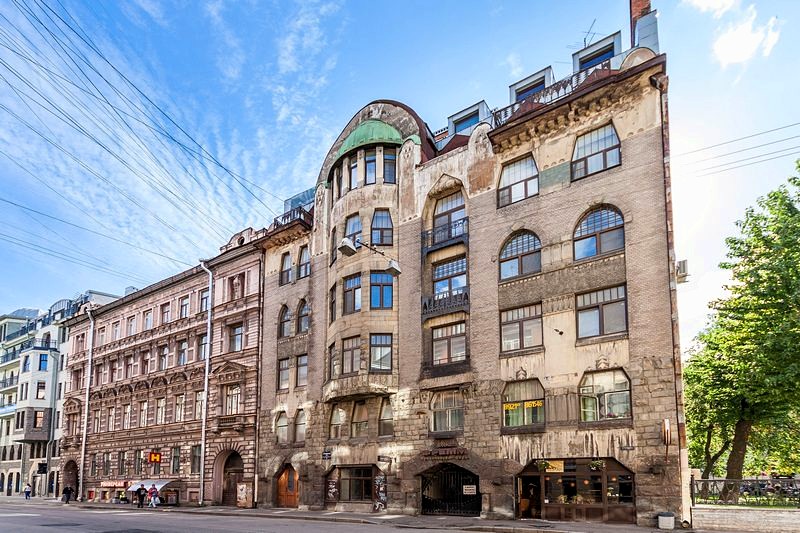 Bubyr House on Stremyannaya Ulitsa
This building was constructed in 1907 by two of St. Petersburg's leading practitioners of the style, Alex Bubyr and Nikolay Vasilyev, who would later collaborate on the magnificent Novy Passazh shopping arcade on Liteyny Prospekt. Bubyr was responsible for the overall layout of the house and Vasilyev for the facade. Initially, the project was a commission from the Ugryumov family, and it was only after the building was completed that Bubyr himself bought it. He then settled on the sixth floor with his family, while Vasiliev also lived there for a short time in 1917.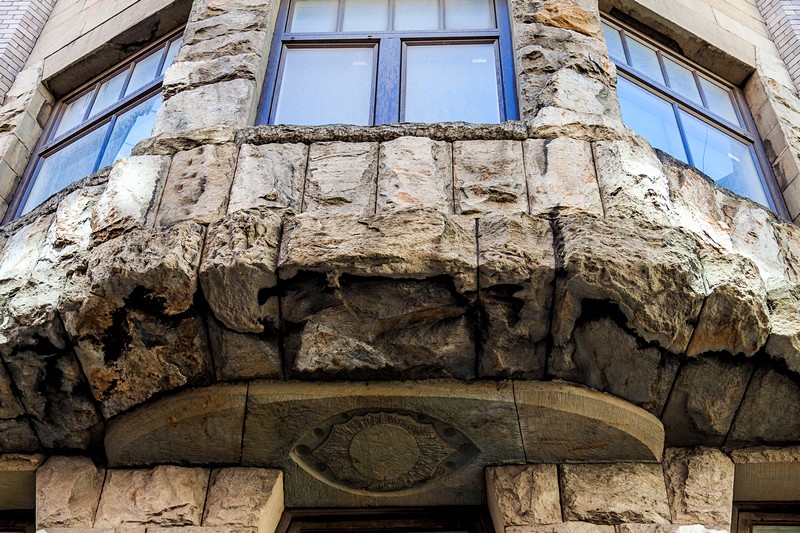 Crude stone on the Bubyr House
The Bubyr House is more or less a definitive example of Northern Moderne, the St. Petersburg equivalent of the National Romantic movement popular throughout Scandinavia and the Baltics at the time. Drawing on the middle ages and folk art for much of its inspiration, the style was playful, democratic and humane, reflecting the political and social ideals of the merchant middle classes who were its main patrons. Despite the fact that its decorative elements were eminently suited to the harsh northern climate, Northern Moderne never sat entirely comfortably with the grand imperial architecture of St. Petersburg. In only a few years the Russian Neoclassical Revival, which aped Northern Moderne's use of rough stone and simplified, shallow decorations but with a more grandiose authoritarian stamp, would surpass it in popularity.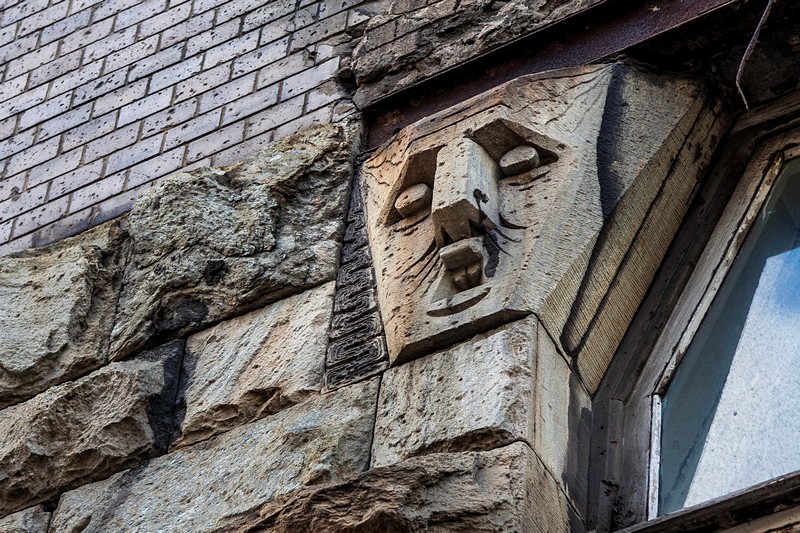 Stone faces on the Bubyr House
Today it is still an apartment house, and thanks to the efforts of enthusiastic residents much of the interior is beautifully maintained, with preserved oak frames and doors, high ceilings with their original moldings, Dutch ceramic stoves and leaded glass light fittings.
| | |
| --- | --- |
| Address: | 11, Ulitsa Stremyannaya |
| Metro stations: | Mayakovskaya |
| Directions: | Exit Maykovskaya Metro Station onto Ulitsa Marata and turn right. Take the first right onto Ulitsa Stremyannaya. |
| Website: | http://www.visiting-bubyr.ru |
| What's nearby? | Nevsky Prospekt, Ulitsa Marata, Vladimirsky Propsekt, Church of the Vladimir Icon |