Apartment House of the Duke of Leuchtenberg
A striking masterpiece of Art Nouveau architecture, this large apartment building on Bolshaya Zelenina Ulitsa in the north-west corner of the Petrograd Side belonged to Nikolay Nikolayevich, Duke of Leuchtenberg, great-grandson of Tsar Nicholas I who later became aide de camp to Nicholas II during the First World War and a leader of the Whites in Kiev during the Russian Civil War.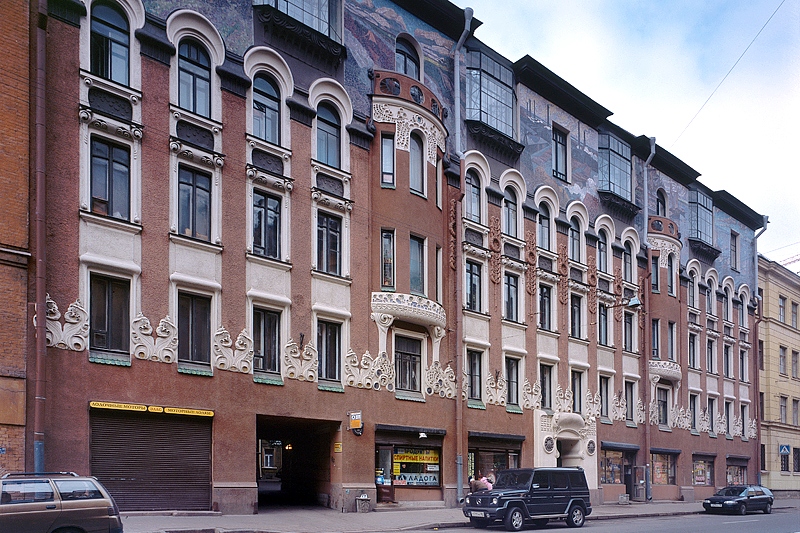 Apartment Building of Duke Leichtenberg on the Petrograd Side
The architect, Theodor von Postels, was a recent graduate of the Academy of Fine Arts and, as with many architects of his generation, it was his earliest works that were his most impressive. For this, his second major commission, he provided a revolutionary design the dominant feature of which is the huge mosaic freeze along the top floor of the main facade.
Created in the workshops of leading mosaicist Vladimir Frolov to designs by Sergey Sholkovy, the five panels of the frieze comprise two landscapes with rivers, two seascapes, and in the centre an early example of an industrial cityscape with smoking factory chimneys. Little is known of Sholkovy, and these magnificent mosaics, united by rich shades of purple and blue, are often mistakenly attributed by locals to the renowned artist Kuzma Petrov-Vodkin, which is in itself a testament to their quality.
The frieze frames four huge bay windows which identify the top floor of the building as artists' studios. The facades of the lower floors are also richly decorated with delicately molded stucco and ornate ironwork, all featuring a swirling, maritime motif. The streetside facade of the building has recently been fully restored, so the decorations and mosaics can be seen in all their original glory. The similarly ornate interiors of the building, and the more modest facades of the two internal courtyards, are unfortunately in a less happy state.
The tenants of the Leuchtenberg House have included Ivan Kirillovich Parkhomenko, a portraitist who devoted his early career to the depiction of Russia's greatest writers (including Lev Tolstoy, Ivan Bunin and Alexander Blok) and then painted early official portraits of leading Bolsheviks. Larisa Reisner, the leading Revolutionary and Civil War journalist, who was purportedly Boris Pasternak's model for the heorine of Doctor Zhivago.
| | |
| --- | --- |
| Address: | 28, Bolshaya Zelenina Ulitsa |
| Metro stations: | Chkalovskaya |
| Directions: | Exit Chkalovskaya Metro Station and turn left along Bolshaya Zelinina Ulitsa. Cross Chkalovsky Prospekt and continue two blocks to see the house on your left. |
| What's nearby? | Krestovsky Island |
Accommodation near the Apartment House of the Duke of Leuchtenberg
Dining near the Apartment House of the Duke of Leuchtenberg
RESTAURANTS:
Editors' picks