Apartment House of Ratkov-Rozhnov on Kirochnaya Ulitsa
The prominent and prolific architect Count Pavel Suzor implemented nearly one hundred projects in St. Petersburg in the late 19th and early 20th centuries, including such masterpieces as the Singer Building (Dom Knigi) on Nevsky Prospekt and the First Mutual Credit Society Building on the Griboedov Canal. No less interesting is the Ratkov-Rozhnov Apartment House, a huge building with a magnificent facade occupying half a block on Kirochnaya Ulitsa close to Tavrichesky Sad (the Tauride Garden).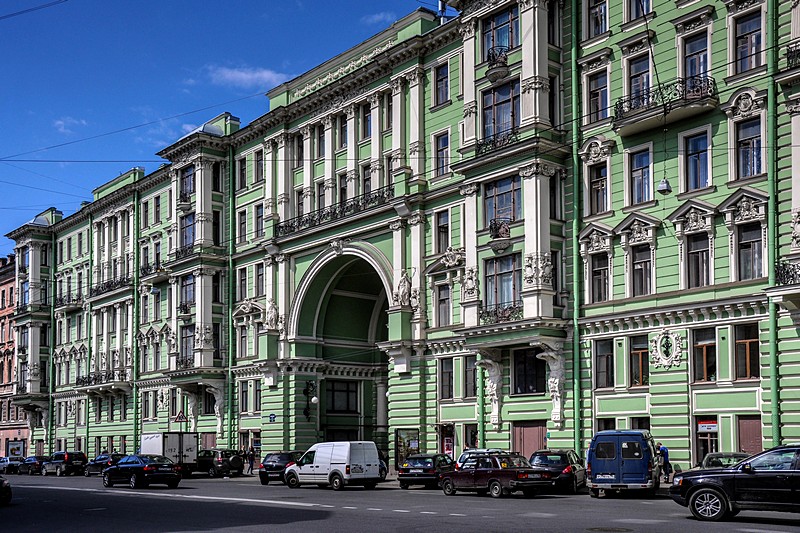 Ratkov-Rozhnov Apartment Building on Kirochnaya Ulitsa
It was built in 1900 for chamberlain and State Councilor Anany Ratkov-Rozhnov. The Ratkov- Rozhnov family were city officials, bankers, factory owners, and ship owners. They had over three dozen apartment houses in St. Petersburg. A few were particularly majestic and extravagant, such as this house on Kirochnaya Ulitsa - six floors with four massive bay windows, projecting balconies, and a central arch three stories tall. Each bay window is supported by two bearded Atlantes. The facade is decorated with statues of women, heraldic moldings, and decorative balconies with ornamental grilles.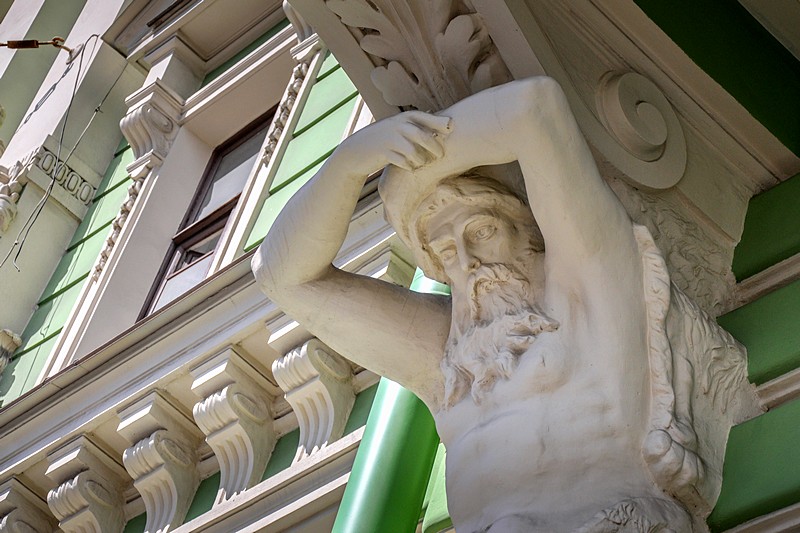 Unusual bearded Atlas on the Ratkov-Rozhnov Apartment Building
Today this massive building still serves as an apartment house, and its magnificent facades, superb examples of St. Petersburg "eclecticism", have recently been fully restored.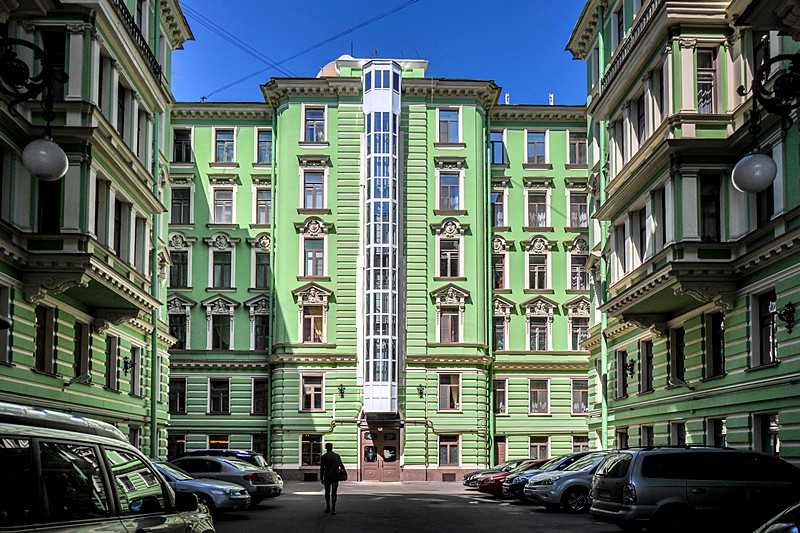 Courtyard of the Ratkov-Rozhnov Apartment Building
| | |
| --- | --- |
| Address: | 32-34, Kirochnaya Ulitsa |
| Metro stations: | Chernyshevskaya |
| Directions: | Exit Chernyshevskaya Metro Station and turn left then left again onto Kirochnaya Ulitsa and walk 100 m along the street. |
| What's nearby? | Vosstaniya Ulitsa, Tavrichesky Sad (Tauride Garden), Barracks of the Preobrazhensky Regiment, Neygardt Mansion |
Dining near the Apartment House of Ratkov-Rozhnov
RESTAURANTS:
Editors' picks