Markov Apartment Houses
At the northern end of Kamennoostrovsky Prospekt on the Petrograd Side, these three monumental apartment blocks provide a neat summary of the architectural styles popular in St. Petersburg at the end of the 1900s. All three belonged to the military engineer and architect Konstantin Markov, who acquired the landplot and drew up plans for three apartment buildings in the Northern Moderne style.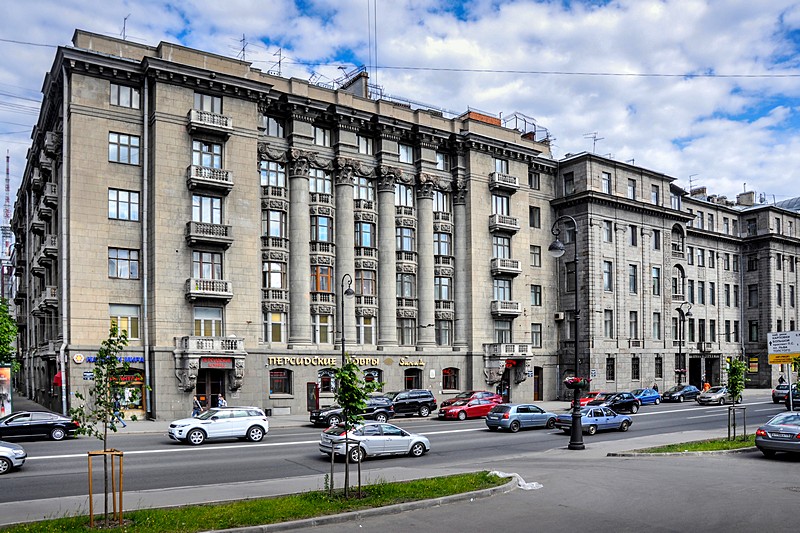 Markov Apartment Buildings on Kamennoostrovskiy Prospekt
The first (No. 67) was built to his designs in 1908-1909, and is typical of the style in its rough granite cladding on the ground floor with contrasting textured plaster above, variously shaped windows, and ornate friezes. Somewhat unusual, however, is the Venetian-style balcony in the centre of the main facade. For the other two buildings, however, Markov employed Vladimir Shchuko to adapt his designs.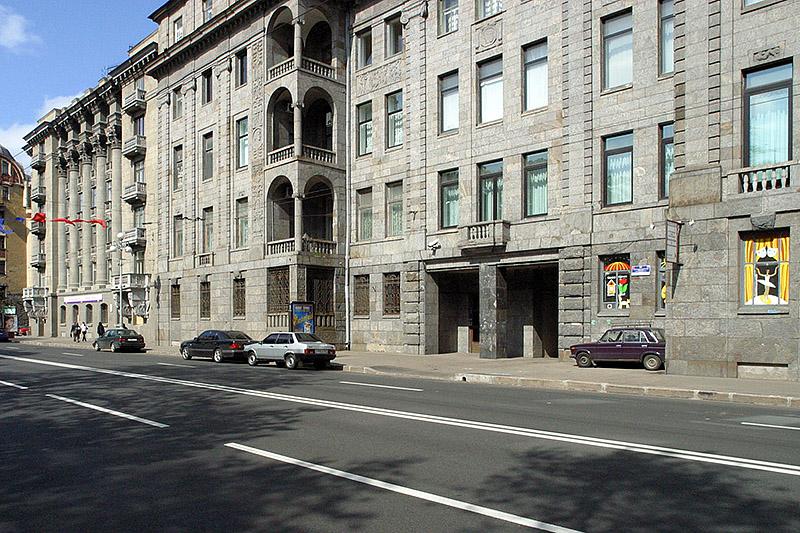 Italian-style balconies on the Markov Apartment Buildings
A young architect with a passion for classical and Empire-style architecture, Shchuko had recently returned from extended travels in Italy, and Markov's commission was his first opportunity to put into practice his vision of classical forms on a monumental scale. The earlier of the two buildings (No. 65, built 1908-1910) features a giant order of four massive columns covering four storys of the main facade, topped by a highly ornate Corinthian capital. The second (No. 63, 1910-1911) is contrastingly restrained, and shows the clear influence of Palladio, with slender columns supporting elegant balconies on one of the asymmetrical avant corps, and gray granite facades decorated with very shallow reliefs. Both buildings have relatively well preserved interiors, which feature equally elegant designs.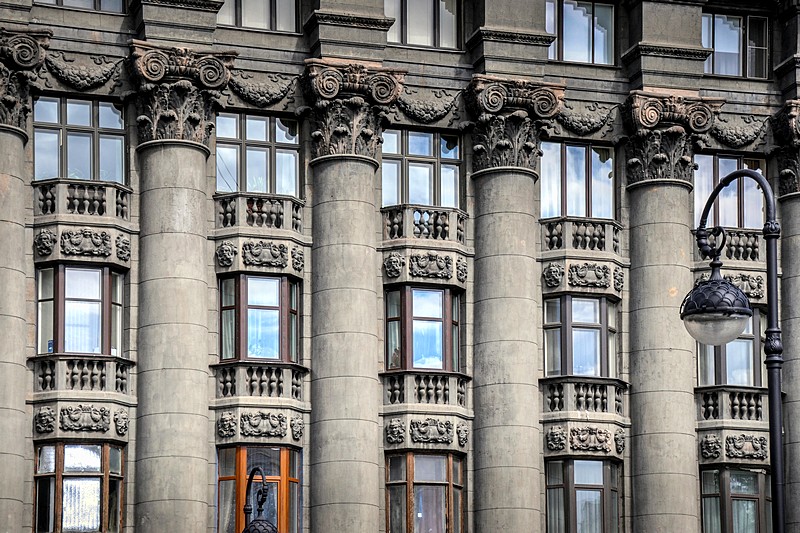 Columns spanning four floors of the Markov Apartment Buildings
The buildings proved enormously successful. In 1912 at the International Building Exhibition, Shchuko was awarded a silver medal, and the Academy of Arts made him an "academician of architecture". Shchuko, an associate of Leonty Benois and a leading preservationist for neoclassical architecture in St. Petersburg, adapted his style in the 1920s to conform with the preference for constructivism, while also working as the chief designer at the Bolshoy Drama Theatre from 1918.
He lived to see the universal adoption (and vulgarization) of his aesthetic theories under Stalin, and worked on several major Soviet construction projects after moving to Moscow, including the Lenin Library, the All-Russian Exhibition Centre, and the ill-fated Palace of Soviets.
| | |
| --- | --- |
| Address: | 63 / 65 / 67, Kamennoostrovsky Prospekt |
| Metro stations: | Petrogradskaya |
| Directions: | Exit Petrogradskaya Metro Station from the street-level exit and turn right along Kamennoostrovsky Prospekt. Follow the street north around 600 m. |
| What's nearby? | Kamennoostrovsky Prospekt, Malaya Nevka, Karpovka River |
Accommodation near the Markov Apartment Houses
Dining near the Markov Apartment Houses
RESTAURANTS:
Editors' picks