Adamini House
Unusually for St. Petersburg, this monumental neoclassical building at the south-western corner of the Field of Mars bears the name of its architect, Domenico Adamini, rather than the original owner, the merchant Antonov.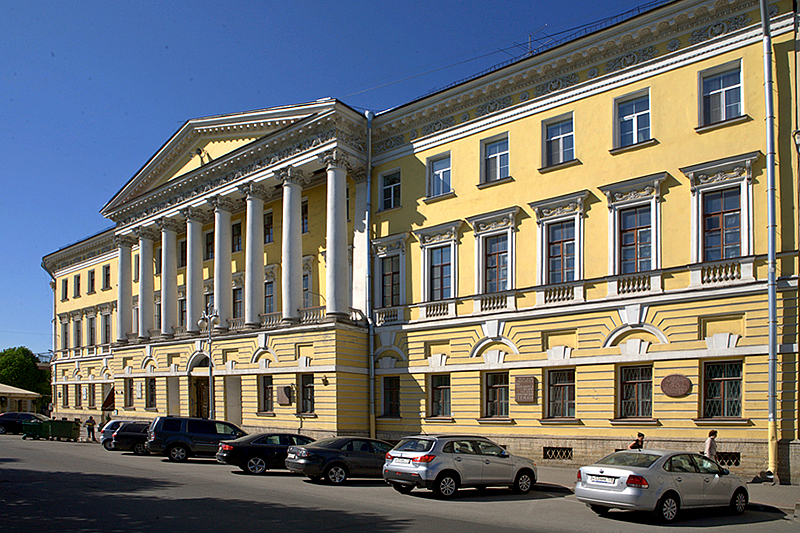 Neoclassical Adamini House on the Moyka River
With its elegant eight-columned porticoes facing the Field of Mars and the Moyka River, its ornate stucco frieze of griffins, and its distinctive rounded corner, this striking triangular building is the only major construction project attributed to Adamini, who worked for many years in St. Petersburg as an assistant to Carlo Rossi and then Auguste de Montferrand. Antonov originally planned to use the ground floor for trading, and the large arched windows were designed as an open gallery.
The building has had many notable residents. In the 1820s and 30s, Baron Paul Schilling, the original inventor of the electromagnetic telegraph (subsequently forgotten after the invention of American Morse Code), lived in the Adamini House. He gave the first public demonstration of his invention here in 1832, and it caused such a sensation that Nicholas I and his brother Grand Duke Mikhail Pavlovich visited Schilling's apartment in person to test the apparatus. The foremost poets and writers of the time, including Vasily Zhukovsky, Ivan Krylov, and Alexander Pushkin were also among Schilling's guests.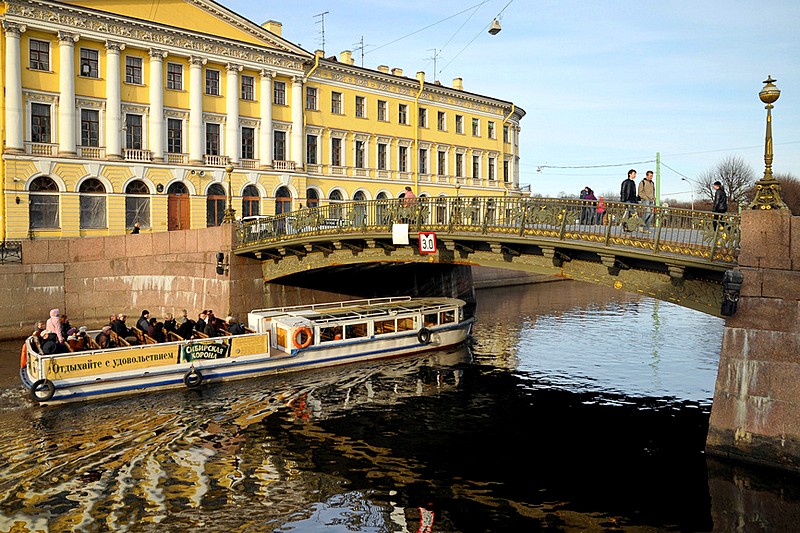 Adamini House and Malo-Konyushenniy Bridge
In the 1910s, part of the building was occupied by the Artistic Bureau of Nadezhda Dobychina, a commercial gallery hosting exhibitions that included works by some of the leading figures of the Russian avant-garde, including Kazimir Malevich, Vladimir Tatlin, and Olga Rozanova.
From 1916-1919, the Adamini House was home to the Comedians' Rest, a cabaret opened by the actor and theatrical director Boris Pronin as the successor to his famous Brodyachaya Sobaka ("Stray Dog"). Like the former venue, the Comedians' Rest became a centre for Petrograd's avant garde, with Vsevolod Meyerhold staging performances and guests including Alexander Blok, Nikolay Gumiliev and Anna Akhmatova, Vladimir Mayakovsky, and the first Soviet People's Commissar of Enlightenment Anatoly Lunacharsky.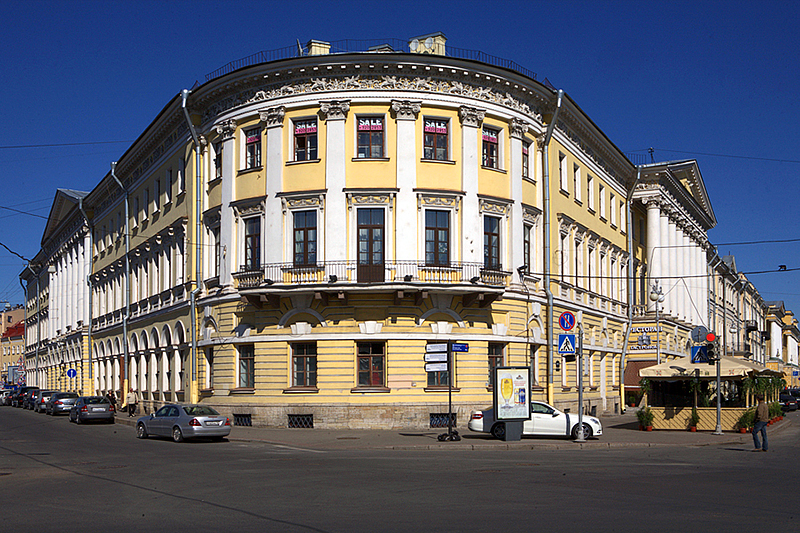 Distinctive rounded corner of the Adamini House
After the Second World War Nikolai Barnov, the chief architect of Lenigrad, lived in the Adamini House, and so too did the famous writer Yuri German and his son, the film director Alexei German Sr.
Although the building suffered bomb damage in 1941, it was fully restored after the war, and the facades at least have been beautifully restored, with several memorial plaques commemorating the numerous famous residents of the Adamini House.
| | |
| --- | --- |
| Address: | 7, Marsovo Pole |
| Metro stations: | Nevsky Prospekt / Gostiny Dvor |
| Directions: | Exit either metro station onto the Griboyedov Canal and turn right along the embankment. On reaching the Church of Our Savior Spilled Blood, walk around the church and cross the Moyka River (2nd Sadovy Bridge). |
| What's nearby? | Field of Mars, Moyka River, Barracks of Pavlovsky Life Guards Regiment, Church of Our Saviour on the Spilled Blood, Round Market, Imperial Stables, Mikhailovsky Garden |
Dining near the Adamini House
RESTAURANTS:
Editors' picks