For:

Beautiful turn-of-the-century architecture
Peace and quiet
Fast and easy access to the downtown

Against:

Lack of hotels
Opening bridges restrict access in summer
The island to the north of the Neva River, from the Peter and Paul Fortress to the Bolshaya Nevka River, was the site of the first buildings in St. Petersburg, including Peter the Great's Cabin, but remained largely undeveloped until the end of the 19th century due to a subsequent ban on stone buildings outside the centre. Once this was lifted, the Petrograd Side came into its own as the city's most fashionable region for new residential development, with scores of apartment buildings representing all the popular architectural styles of the Belle Époque.
The area remains one of the most prestigious residential districts in St. Petersburg, which has led to some over-development during the part two decades but not enough to ruin the modernist charms of its splendid main thoroughfares, particularly Bolshoy Prospekt, Kamennoostrovsky Prospekt and the parkside crescent Kronverkskiy Prospekt. As a place to stay, the Petrograd Side is hampered really only by the scarcity of hotel accommodation, with only a handful of full-service hotels and not many more mini-hotels, hostels and bed and breakfasts.
Recommended accommodation on the Petrograd Side:
2-65, Ulitsa Chapaeva, St. Petersburg, 197046, Russia
Show on map
2.29 km
Nearest metro:
Gorkovskaya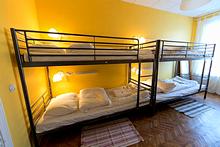 At the south-eastern corner of the Petrograd Side, close to Peter the Great's Cabin and the Cruiser Aurora, this tiny hostel has only four rooms – a four-person dorm, a six-person dorm and two double rooms – and in atmosphere is much more like a bed and breakfast than a backpacker hostel. Owned and managed by a friendly couple with reasonable English, the Hostel 1912 is a budget accommodation option with character and charm.
14, Sytninskaya Ulitsa, St. Petersburg, 197101, Russia
Show on map
2.14 km
Nearest metro:
Gorkovskaya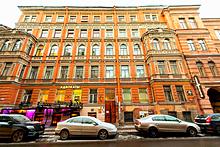 Located only a few minutes' walk from Gorkovskaya Metro Station, Alexandrovsky Park and the Peter and Paul Fortress, this small hotel offerss 18 guest rooms with superior, attractively fitted interiors in a simple contemporary style. The Mary Hotel can also boast a very good on-site restaurant with pleasant summer terrace. There is little in the way of other facilities, but a good level of service makes this one of the most attractive accommodation options on the Petrograd Side.
21, Podrezova Ulitsa, St. Petersburg, 197136, Russia
Show on map
3.05 km
Nearest metro:
Petrogradskaya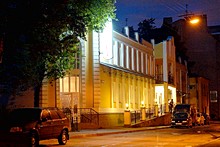 Part of a well-established local chain of small hotels offering modern and reasonably cheap standard accommodation, the Regina has an attractive location on a quiet side street around ten minutes' walk from Petrogradskaya Metro Station. There is little more to the hotel than the 28 guest rooms and a small cafe that can also be used a as a meeting space, but the Regina is also praised for its cozy atmosphere and friendly staff.
»»»